Through the Eye of the lens
One local artist is getting a chance to show off her talent.
Mary Garvin was among 49 artists picked for the second Kansas Triennial exhibition which opened Saturday and continues through April 23.
The Mulvane Art Museum at Washburn University in Topeka, is presenting the exhibition, which takes place every three years.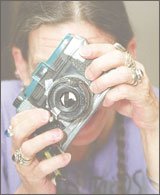 Garvin's entry, "The Magic Gate," was selected from the entries of more than 100 artists. Her piece is a split photo selenium, which involves taking a wet black and white print, immersing it in a solution of selenium and water, and then agitating the photo for about 30 minutes to the artist's taste.
The end result: a black and white photo with grey and red color values.
"The genre is real artsy-fartsy," said Garvin, who has been in photography for the last 20 years and is vice-president of the Lawrence Photo Alliance. "You're going for a specific kind of detail, almost like it's painted. You never know quite what you're going to get, and every print is different.
"You can't make two alike."
The piece selected came from a two-week, photographic tour of Ireland in 1982. "The Magic Gate" shows the opening gate to Ashford Castle, which had been bought by an American and was transformed to a hotel.
David Kiehl, the judge who selected Garvin's photo, is curator of prints at Whitney American Prints and New York's American Museum of Art. Garvin said she had hoped her entry would catch Kiehl's eye and land her a spot in the exhibit.
"Since he is a print maker, I thought he'd be interested in it," she said. "Thankfully, he was."
When Garvin began pottery, she had to learn to photograph her art. After a two-year program at Massachusetts' Worcester Center for Crafts, she started out on her own, and quickly decided which path she would take.
"I had to learn to photograph my artwork, and the cost to set up a darkroom was much cheaper than to set up a kiln," Garvin said.
Garvin didn't win the competition, but being nominated is a great honor, she said. The first-prize winner was awarded $1,000, along with two juror's choice awards of $500 each. After the exhibit closes, the 49 pieces will travel the United States to different museuems for three years.
"I was really excited, because the juror is somebody who is really a heavyweight," Garvin said. "When you enter a show and someone from a national museum picks it, it's a big thing."
Garvin studied at Kansas University for six years, and is currently enrolled at Washburn.