Country Crooner
Eudora singer carves out her country niche
When Annie Dunavin told husband Terry she wanted to be a country music singer, it came as a shock, especially since he'd never heard her in public.
Much to his amazement, she didn't waste any time jumping on her desired career path.
It was karaoke night at a nightclub in Florida, where the couple were honeymooning. Terry was coming out of the restroom when he heard a familiar voice on stage.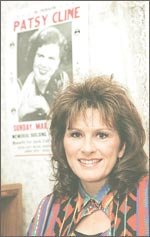 "I looked up, and it was her," he said.
The rest is history.
After kick starting her career with karaoke, Annie took second place in 1993 and first place in 1997 at an Opry show in Allerton, Iowa. She recorded her self-titled debut album in 1997, and released her latest, "Come on Time" in 1999. The self-taught singer now spends most of her weekends performing at Opry houses in Kansas, Nebraska, Missouri and Iowa, promoting her albums.
And while it's a fun experience for the couple, Terry said it can be a little hectic.
"The most nerve-racking thing is you never know what the band's going to be like," he said.
With the strong musical influence of Patsy Cline, Annie said she wins the appreciation of the crowd by singing covers of older country-western songs.
"I have people come up and say 'thanks for singing old country,'" she said. "The reward is to see the faces in the audience when you touch them with a certain song. When I go onstage, I always pray to God and pray to Patsy to help me out."
Like any aspiring musician, she hopes one day to be able to sing full time. For now, she said she takes life as it comes and is looking forward to someday opening her own Opry house.
No matter what happens, Terry said he'd support her every step of the way.
"I told her I'd start out being her driver, and if it works out, I'd be her accountant," he laughed.
Annie said the main thing for her is to have fun. If it becomes too much like work, she said, it's time to start looking elsewhere.
"I've always said if it stops being fun, it's time to get out," she said.