Opening State(ment)
Cardinals roll past Basehor-Linwood in Kansas Class 4A playoffs
Basehor
The Eudora Cardinals will head home this weekend for the regional championship game after adding yet another title to their standout season Tuesday night.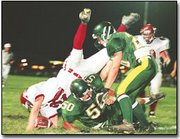 Eudora rolled by Basehor-Linwood 27-6 and captured the bi-district title -- propelling its record to 9-1 overall. The Cardinals will now face off Saturday night against Hiawatha High (8-2), which advanced after upsetting Holton, 10-7 Tuesday.
Coach Aaron Barnett said the Cardinals will be ready to play despite having only three days of recovery and prep time.
"Whoever we play has to do the same thing. It`s not a disadvantage or an advantage, both teams are in the same boat," Barnett said. "When you get to this stage of the game, it`s whoever shows up to play, and, hopefully, you`ll be ready to play."
Though the Cards earned the home-field advantage, it wasn`t until Wednesday morning they learned they would in fact be allowed to play at Laws Field.
"Our stadium isn`t big enough, we don`t have adequate locker rooms for a traveling team, or restroom facilities for the fans," Barnett said.
The Kansas State High School Activities Association changed its previous stance when Eudora offered to put in temporary bleachers and portable rest rooms for the game, thus avoiding having to move the game to either Haskell University or Memorial Stadium at Kansas University.
On Tuesday, the road didn`t seem to bother the Cardinals or their fans. An estimated 2,500 locals made the trek north to Basehor and Barnett said they had an impact on the contest.
The nose the crowd generated helped to fluster the Bobcats early, Barnett said. With the Basehor-Linwood offense rattled by the noise, the defense was able to take control and capitalize on early Bobcat mistakes.
"We set the tempo," Barnett said. "Our defense got on a roll. You`ve got to remember, these are 15-, 16-, 17-year-old kids, and when good things start happening they get excited and it seems like it rolls."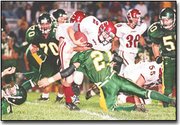 The defense forced the Bobcats to go four-and-out five times, grabbed one interception and allowed just 80yards of total offense.
"I thought the game went really good for us," said senior Steve Krutz. "The defense really stepped up."
But the Cardinal defense had to tackle the bi-district game without senior Blane Christenson, who tore the ACL in his right knee in last week`s 20-12 victory over Bishop Ward.
To fill the hole Christenson, who played both full back and linebacker, left, sophomore Kaleb Niedens, who at the beginning of the season shared time at quarterback with junior Ronnie Morelan, stepped in on defense and started his first varsity game.
"That`s asking a sophomore big time to start his first game in the playoff," Barnett said. "And he responded and did a great job tonight."
Sophomore Andrew Pyle and junior Tommy Shutt will now rotate in at fullback to fill the offensive void.
And Eudora`s offense was its usual self Tuesday. Brian Harris carried the ball 26 times for 231 yards and three rushing touchdowns -- one of which was a 62-yard dash that broke open the game for the Cardinals early in the third quarter.
"We try to find what they`re weakest at on the defensive line and we try to exploit that," Barnett said.
But Barnett credited the linemen, led by seniors Brent Whitten, Zac Hamlin, and Brett Becker, junior Jason Marmon and Jason Lister, and sophomore Joe Born, for great blocking, which has opened up a lot of holes all season.
"I was really happy, I thought both sides of the line played really well, offense and defense," Barnett said.
It will take another total team effort in Saturday`s match-up with Hiawatha for the Cards to come out on top and headed for sub-state play, and things came together a little more Tuesday night for Eudora.
"I told them when it gets down to playoffs, there`s going to be a lot of intangibles and I really think the crowd and the sideline has to be on our side and I really think they did a great job."
But the most intangible thing of all is the desire and determination the Cards have shown all season long -- the emotions they will bring to the regional championship game.
"I think we`ll be ready to play," Krutz said.
More like this story