One for the money
Cards meet Bishop Ward with state playoff berth on the line
It all comes down to the game on Thursday night.
The first seven games of the season, including last week's 27-6 victory over Mill Valley High fall to the backdrop.
The fate of the Cardinals, who basically ran through the Frontier League and district play, will be determined when they square off against Bishop Ward in the District 5 championship game.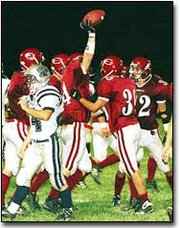 One team will walk away victorious and headed for the state tournament. The other team will just walk away.
"Our playoffs begin on Thursday," said coach Aaron Barnett. "If we win we go on, if we lose we check in the equipment."
The Cardinals will need to maintain the composure they have been building throughout the season to outplay Bishop Ward, a team that snatched the sevenon-seven title from them this summer with a last-second pass in the end zone.
"We've played tough games, it seems like, week after week, so they're battle-tested," Barnett said. "We've just got to keep them from being too excited."
Both teams are undefeated in district play and both had winning records this season, so Barnett is preparing his team for a close, physical game.
"They're very fundamental, very basic," Barnett said. "They believe in physical football, much like we do. It's going to be who executes the best as far as blocking and rushing go that comes out ahead."
The Cards, in the game against Mill Valley last week, proved that they can execute both in the air and on the ground as they spent much of the first half taking advantage of open receivers and the second controlling the ball with a powerful ground game.
Barnett said he planned to continue doing all they had been doing this season, which is worry only about how the Cardinals are playing instead of how the opponent matches up. In doing that, Barnett will have to rely on junior quarterback Ronnie Morelan, who stepped up last week throwing 13 for 20 for 193 yards and one touchdown, and rushing for 34 yards and one touchdown in seven carries.
"I love passing, and some days I can throw the ball, some days I can't," Morelan said. "The days I can throw the ball Coach can see it out here in warm-ups, and warm-ups show everything. Warm up 100 percent and that's how you play."
The Cards started the season with Morelan and sophomore Kaleb Niedens sharing the snaps, but Morelan has taken over as the full-time quarterback for district play. With that has come more passing routes and a new element to the Cardinal arsenal.
"People are going to try to stop Brian (Harris), and that brings eight or nine guys up near the line," Barnett said. "That's going to put our receivers on an island out there and leave them open downfield."
With the passing plays now in place and the running game as strong as ever, Barnett said he was confident in the team he would bring to the field Thursday for what is the biggest game the Cardinals have suited up for this season.
"They know this Thursday's going to be a big game," Barnett said. "I really think we're clicking right now. We are basically all healthy; we're looking good. We're at about 100 percent."