Home cooking doesn't agree with Cardinals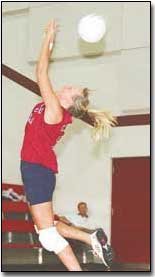 The Eudora Cardinals hosted their first volleyball match of the season Tuesday night, but their homecoming wasn't nearly as successful as they hoped.
Eudora dropped matches to Prairie View and Anderson County and saw its record dip to 9-6 not bad, but not what coach Brian Kraus hoped it would be at this point of the season.
"We haven't lost to any teams we should have beaten," Kraus said. "The teams that have beaten us this year have been solid teams. Our schedule has been tough."
Add Prairie View and Anderson County to the list of formidable opponents. They brought a combined record of 25-6 to Eudora.
The Cards didn't play well against Prairie View, losing in two games, 15-5 and 15-4.
"We didn't have the intensity we needed to stay with them," Kraus said.
That was hardly the case against Anderson County, which leads the Frontier League with a 15-1 record. The Cardinals battled throughout and showed the intensity that was missing in the previous match.
It wasn't enough, however, as Anderson County topped Eudora, 16-14 and 15-9 to claim the match.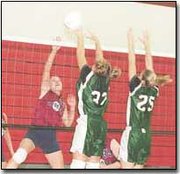 "That's the hardest I've ever had a team play and not win the match," Kraus said. "We made a lot of good digs and good defensive plays. We had trouble getting the ball on the floor."
Senior Sheena Neidens had a strong all-around match. She was perfect all night with her serving, had 10 kills and a team-leading six blocks. Meanwhile, freshman Lauren Kracl had 14 kills and four blocks.
The Cards will travel to Wellsville Saturday for a tournament.