Cardinal tracksters off to a strong start
Eudora boys take third at the Baldwin Invitational
Despite only two first-place finishes by the Eudora track team Friday night at Baldwin City, Eudora Coach Dave Durkin wasn't disappointed.
"It was a good meet," Durkin said. "The kids did pretty well, and I'm really happy about it."
Durkin took just the juniors and seniors to the meet in Baldwin.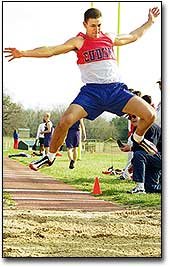 "There are a number of other meets for the freshmen and sophomores," he said. "So the juniors and seniors had more of an opportunity to compete at this meet."
The boys scored 85 points for third place. Baldwin took first with 118 points. The Eudora girls finished last with just 14 points. Baldwin also won the girls' division with 153 points.
Placing first in the 400-meter dash for the Cardinals was junior Zac Tyler with a time of 53.59 seconds. The second place finisher, Ben Pawl from Santa Fe Trail, finished with a time of 54.67.
Tyler fell short of his goal of finishing the event in less than 51 seconds.
"Tyler's got a ways to go," Durkin said. "We all do. It's still a little early in the season to project anything."
The Cardinals' other first-place finish was posted by the 4x100-meter throwers relay team. The team secured its second first-place finish of the season with a time of 47.09. Wellsville finished second in
54.07, trailing the Cardinals by about seven seconds.
The 4x400-meter relay team also fared well taking second in 3:39.75.
Senior Brett Becker took second in the 110-meter high hurdles with at time of 17.12. Junior Tyler Matthews finished fourth with a time of 18.06.
Becker and senior Brian Harris finished neck and neck in the 300-meter intermediate hurdles. Harris was third at 43.18 and Becker finished fourth in 43.89.
Junior Josh Bowser secured third in the 100-meter dash with a time of 11.86, which was slightly slower than his 11.76 time in the preliminaries.
Lansing's Hosea Morgan won the event in 11.18.
Senior Aaron Slavin finished third with a time of 4:46.45 in the 1600-meter run. Slavin's rival in the mile, Matt Noonan of Baldwin City, was first with 4:37.66.
Despite a quick start in the first leg of the 4x100-meter relay, the Cardinals fell to a fourth-place finish at 45.78.
Senior Sean Mullins ran the 800-meter run in 2:12.25 for a third-place finish.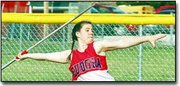 The Cardinals scored points in every fielding event except the shot put.
"Our throwers had a really good day," Durkin said. "It was good to get the points there."
Junior Wes Hinman threw the discus 129 feet 4 inches to finish third.
Junior Cody Lauber had a mark of 166-02 in the javelin. Lauber finished third. Junior Jason Burrous was seventh with a mark of 139-11.
Bowser jumped 19-10 in the long jump and finished fourth.
"There was definitely some good jump competition at the meet," Durkin said.
Mullis jumped 37-9.5 in the triple jump for sixth.
In the pole vault, junior Nate Cleveland sailed 9-6 for fifth place. Burrous took fourth in the high jump, jumping 5-8.
"I think after two meets, the team understands what it's going to take on this level to compete," Durkin said. "Some need to work harder at practice to prepare themselves better."
Durkin said his track team, along with others in the league, are a bit behind this year because of the weather.
"So, I'm not dissatisfied," he said.
Durkin said if the boys keep competing as strongly as they have so far, there shouldn't be anything to worry about.
The girls team only had three athletes finish sixth place or better at the meet.
"They are showing improvement over a year ago night and day," Durkin said.
Junior Lacy Deathe place third in the pole vault, vaulting 6-0. Junior Brandi Abel jumped 14'8" in the long jump for sixth place. Junior Melissa Steel took third place in the javelin with a throw of 93-3.