Nearly 20 years ago, Eudora resident Marilyn Neis was searching for a hobby when a friend suggested she learn about the craft of cross-stitching. She followed that lead and before long, Neis was hooked.
"It was fascinating and I admired the artists who could chart (their designs) for cross-stitch," she said. "Once you get bit by the bug, you're kind of addicted. It's not a new art by any means, but they've started doing more detailed charting. That's what really grabs me."
With her newfound hobby, Neis said, time spent waiting for her son at various activities passed much more quickly.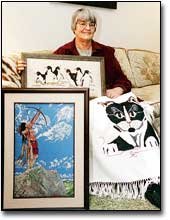 "It beats sitting there in the cold," she said.
Cross-stitching is no easy task, Neis said. First, she selects a pattern. Next, she picks out the fabric and thread, then stretches the fabric to prepare her for the intricate work of creating art, thread by thread.
Watching the colors form into a fabric landscape is one of the more enjoyable aspects of the craft, she said.
"I don't know how many colors are out there," Neis said. "It's unbelievable. I've had times where I'm doing this and you want to see what the next stitch will bring, but your eyes are just too tired."
Each chart, or pattern, has a specific number of threads to be used per color and per design. Neis said if she loses count while working, it's only a matter of time before she runs into trouble.
"You might get an eye in the wrong place," she said. "You rip. You take it out stitch by stitch."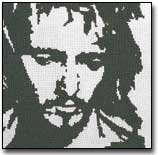 However, the end result makes all of the hard work worthwhile, she said. One of her latest works was a 23-inch picture of Christ, which she wanted to complete before the beginning of Lent and Easter. She found the pattern on the Internet, then wrote to the designer via e-mail. She asked for a modified version of the design and the artist obliged.
With persistence, she completed the picture and donated it to St. Paul United Church of Christ, which she attends. Neis said she worked on the picture for a month, putting in between 90 and 100 hours before it was done.
"Cross-stitch is not fast," she said.
The picture of Christ was one of three she has given to the church. Much of her cross-stitching is given away as gifts, she said.
"Most people don't do it," Neis said. "When you can give it to somebody they seem to be thrilled."
And though she enjoys sharing her work, she finds the greatest reward in the craft itself.
"It's relaxing to me," Neis said. "I just think they're fun to do."