Draft day gives young players chance to show off their skills
Brothers Kelly Latshaw and Adam Graff are ready to play ball.
The two baseball players play catch and sharpen their skills at home, which may prove useful when five-year-old Latshaw begins playing for the Eudora Amateur Baseball Association (EABA) this year.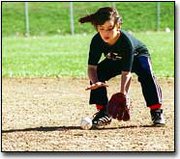 The association held its "draft" on Saturday for this year's players, ages 5- to 14-years-old. During the tryout prior to the draft, young players fielded ground balls, caught fly balls and demonstrated running ability for the coaches. The tryouts are an annual event for the EABA, which holds sign-ups in late February. The season will start the first weekend of May.
Paula Winkler, EABA president, said there were few changes this year, save the addition of a new league to replace the Babe Ruth league. The league is a AA division of the United States Specialty Sports Association, for 13- and 14-year-olds.
EABA Chairman David Alvarez said the organization offers much for Eudora's youth to participate in baseball. Alvarez said the organization was hopeful that more would be available next year.
"We provide an opportunity for every kid in town to play baseball from age five to 14 this year," he said. "Next year, we're hoping to have a 16-and-under league."
The older age league may extend the EABA career of Eudora resident Stephen Prudden. This is the second year of EABA baseball for the 11-year-old. Before that, he spent one year playing baseball in DeSoto. Prudden spends most of his time on third base and some on the pitcher's mound. For Saturday's tryouts, he wasn't worried about which team would pick him. He speculated how the events would transpire for his tryout.
"You just play catch and warm up," he said. "I think last year they let you bat a little but they usually don't."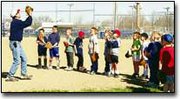 The EABA program begins with T-ball for 5- and 6-year olds. Then, 7- and 8-year-old players get a chance at some coach pitching. Nine- and 10-year-old players begin with kid pitch, then advance to the 11- to 12-year-old division where they can lead off and steal bases. By the time 13- and 14-year-olds hit the field, it's straight baseball.
And as baseball mom Christine Chelossi can attest, the players and the coaches have a lot of work ahead of them. Chelossi gives high praise to the coaches who work with the players to build not only their baseball skills, but also their ability to work as a team.
"They have great coaches," she said. "They teach a lot of these kids with no pay, so I give them a lot of credit for working with these kids."