One day as Tod Demuth was changing the diaper of his 21-month-old son Levi, he found a lump on his child's right side. Tod and his wife, Lisa, took their son to the doctor, to discover their son had Wilm's Tumor, a form of cancer. With the aid of doctors and a family's determination to fight the cancer, Levi overcame it. In August, it will be three years since his final chemotherapy treatment and he would be certified "clean," Lisa said.
At age five, Levi is a typical kid his daily activities include playing with toys and watching movies. Another one of his favorite activities is to participate in the annual Relay for Life, where he can show the world he is a survivor of cancer.
"He calls that track (at Laws Field) his track because of the Relay for Life," Lisa said. "He loves to prance around it."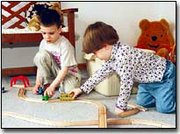 But Levi's victory over cancer wasn't an easy battle. The tumor attached itself to a vital organ, which caused more than just the removal of the tumor.
"It was the size of two grapefruits when they went in to get it," Lisa said. "They took the right kidney."
The procedure didn't sit well with young Levi.
"I didn't like it when they took out a piece of my body," he said. "I was scared of that surgery."
Nine months after the removal of his kidney, another tumor was found in his right lung. It was removed without complications. Shortly after, doctors found another spot on his left lung. Fortunately, after some testing, it was discovered that the spot was merely scar tissue, that didn't require removal.
Lisa said her son's diagnosis was a surprise, considering her family history. Her mother had beaten colon cancer, which was one of the only instances of cancer in their line. Levi's tumor was a freak occurrence, Lisa said.
"There's a one in 5,000 chance your child will have this," she said. "We just won the lottery. There's no explanation."
After winning the battle against cancer, the family decided to participate in a Wilm's Tumor study. Tod and Lisa gave blood samples and Levi is monitored with annual check ups. Lisa said members of their church, the First United Methodist in Lawrence, were helpful in bringing food and lending their support to the family.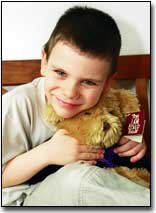 "If it wasn't for them, we would have just lost it," she said.
Another way the family continues the fight is with the Relay for Life.
This year's Relay for Life will be held June 8-9 at Law's Field. The event helps raise money for cancer victims and research.
"It's kind of our way of striking back at it," Lisa said. "It's been empowering. It makes us feel like we can do something instead of sitting around and wondering."
Anyone interested in helping with the event may call Judi O'Grady at 542-2208.