Learning starts all over again
After 18 years of schooling, Megan Minter experienced the first day of school all over again, this time in the front of the classroom.
As third graders with pristine condition backpacks and shiny new supplies poured in through the door, the Kansas University 2000 graduate welcomed students by name, double checking for nicknames and pronunciations.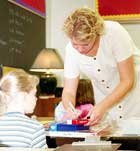 Student teaching at Nottingham Elementary School under Linda Dick last school year familiarized the first-year teacher with the building and procedures, but Minter said that wouldn't eliminate nervousness.
On the outside, Minter was calm and collected as she went over the students' schedule, written neatly on the chalkboard. By rows, she directed them to sharpen their pencils, stopping to help students write their names on their marker boxes and notebooks.
The day before, Minter said she wasn't nervous yet.
"I know tomorrow morning I will be," she said.
Although the first day of third grade isn't the milestone starting kindergarten is, Minter anticipated meeting some apprehensive students.
"You walk in, and they're all angels that day," Minter said. "They don't know what to expect."
Even though she's certified to teach up to ninth grade, Minter feels at home with the students half her size.
"In high school I worked in a preschool," she said. "That's where I fell in love with teaching. I was more accustomed to younger kids."
Stepping into the classroom as a full-time teacher rather than as a student teacher or substitute meant Minter had some challenges to face.
"Being a first-year teacher, you don't have the materials made," she said, gesturing to laminated poster board birthday cakes with the students' birthdays. "There are so many things you have to plan out. I had to make a routine for walking down the hall."
Minter filled her classroom with red and blue bulletin boards and colorful nametags, an activity requiring her to spend about three weeks working in the classroom from 5 p.m., when her job as a nanny ended, to 10 or 11 p.m.
"Next year will be a bit easier," she said.
Getting the room ready for students played into her jitters.
"Last week I was panicking because my room was only half done," she said.
Her decorations include colorful cutouts of her name. Minter joked that after she marries her fiancext summer she only had turn a construction paper "M" upside down when her name changes to Winter.
With the work put into preparing the room, Minter realized this was her classroom even before the first student waked through her doorway.
"It didn't hit me until I put 'Miss Minter' on the board," she said.