The rumble and sputter of the engine echoes in the garage. As the car backs out, the shiny chrome rear end, not unlike a Volkswagen Beetle, emerges, followed by running boards and a regal, Rolls Royce-looking front.
Behind the wheel is Barb Newcomb, a car enthusiast who recently took her pride and joy, a 1939 Chevrolet Coupe, to a Branson, Mo., car show with about 800 other cars.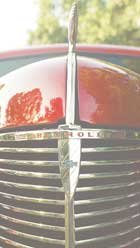 "They look at them, they ask questions," Newcomb said of the show. "If someone has one like it, they ask each other information. They compare notes on how something was done."
Newcomb gets the car out of the garage several times a week, usually to go to weekend cruises where car owners park their beauties and browse the scene. However, she has driven it to work in suburban Kansas City before.
The coupe has new equipment, except for the original body, Newcomb said. Getting mechanics and other auto technicians to work on original body work can prove difficult. The interior fabric looks plush and soft, probably not to be expected from a 62-year-old car. The rich red color, "crimson pearl," is a 1998 Cadillac color.
"It was his pride and joy," Newcomb said of her late husband, Dennis. "He was the one who knew the mechanics of the car. I kind of learned with him."
The Newcombs' fondness for collecting cars began in 1987 when the couple purchased a 1956 Ford Crown Victoria. After selling it, they purchased another classic Ford, sold it, and eventually acquired the coup about five years ago.
"That was one of the deals," Newcomb said. "When we decided to get a car, it would be in the garage. Period."
Newcomb parks the coupe in a garage behind her home while her van weathers the elements outside.
She said she didn't have any fondness for a particular era of automobile, so when she and her husband spotted the coup at a Shrine car show in Kansas City, the car just caught her eye. Fixing it up took only one winter.
The trip to Branson was the first time Newcomb showed off the car with it working really well, she said. She drove down to the show with friends Greg and Kim Neis following her.
"It was too small for the three of us, but we did all fit in," Newcomb said.
The De Soto Watermelon Festival gave her a chance to show off the car locally. Newcomb plans to meet with friends and take the car to as many cruises as she can, including a benefit cruise for juvenile diabetes at the Hy-Vee on Sixth Street in Lawrence. Cruises abound every weekend until October, she said.
"You go to car shows and see people you met before," Newcomb said. "There's a good fellowship between a lot of the people."