Success can come in leaps and bounds
Eudora gymnast advances two levels in training
A Eudora youth is moving up in the gymnastic world by leaps and bounds, springboarding her way to a promising future.
Twelve-year-old Melissa Fernandez recently advanced two levels in her gymnastics training. Fernandez jumped from a level six to a level eight since December, which her coach said was no easy accomplishment.
"She's 12 and that's fairly young for her level," said head coach Anne Duncan. "She has a lot of potential."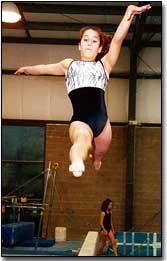 For a gymnast to progress to a higher level, he or she must score an average of 34 points in overall competition and gain a trainer endorsement. Levels range from 1-10, then elite.
But first things first. Duncan said a lot of training is required to achieve level nine status. But, she said Fernandez is up to the challenge.
"To get to level nine, she's not that far away," Duncan said. "It just depends on her training and skill level."
Fernandez averages 20 hours per week training at the Kansas Gymnastics and Dance Center in Olathe. Practicing five days a week and juggling her school studies isn't easy, but it's worth it, Fernandez said.
"Sometimes we have easy days and sometimes we have hard days," the Eudora West Elementary sixth grader said.
In training, gymnasts focus on four elements: strength conditioning, skills, flexibility training and mental training as a team. Though Fernandez is multi-faceted, Duncan said, the young gymnast's strength is the balance beam.
"It's her best," Duncan said. "She's very good all-around, but if you want to pick her strongest area, it's up there. She walks around like she's on the floor," she said.
Fernandez's long term goal is to get to the elite level. However, training for elite status requires 30-40 hours per week, along with an understanding of the ins and outs of that training.
"It all depends on how quickly she gets it," Duncan said.
For now, Fernandez must focus on her newly-achieved level. And, she's getting plenty of chances to display her talent. Upcoming meets for Fernandez include competition in Georgia, San Antonio and Reno, along with a few in Kansas City, Mo.
Aside from the stature she's achieved, Fernandez said she finds happiness in one simple thing.
"Just being here everyday," she said.