The 47-year-old Palmer and his wife, Leigh, have two children. Palmer has lived in Eudora for 16 years.
Education: Bachelor's of science in psychology from Kansas University.
Professional background: Psychology and network computing.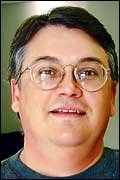 Political and civic experience: No political experience besides volunteer work for non-profit organizations; member of Board of Directors of Sunflower Community Network.
As a member of the Eudora School Board, what approach would you take to the district's rapid growth?
We, Eudora and the K-10 Corridor, will (in the future) be among the state's "money makers." The state can't afford for one of its moneymakers to have second-rate schools that compromise efforts to attract business to Kansas instead of Missouri.
Burdening Eudora and our neighbors with the cost of an expansion that benefits the rest of the state is unreasonable. For this reason, aggressively pursuing outside funding can be successful. For the same reasons, the City of Eudora needs to work with the board of education to find lands and create facilities that will allow us to expand the new schools we build instead of scrapping them or hoping to find other uses for them.