The 44-year-old Bowling and his wife, Francine, have two children. The Bowlings have lived in Eudora four years.
Education: Bachelor's degree in Environmental Design from Texas A & M University, College Station, Texas.
Professional background: Worked for the past 20 years as a project manager for multi-family and commercial projects.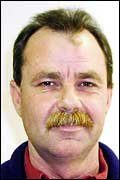 Political and civic experience: Served on Eudora Middle School and high school site councils.
As a member of the Eudora School Board, what approach would you take to the district's rapid growth?
After hearing the recommendations offered to the board at the last site council meeting, I believe that we should convert the high school into the middle school. This facility would function very well at that capacity. The existing high school's main limitation is that the auditorium cannot be feasibly expanded. This is also the most expensive area to build in a new school. I would recommend that we build a new high school, leaving the auditorium as a later addition when more funds were available. I also believe that it will be cost prohibitive to remodel the existing middle school to current building standards. This facility should be absorbed into the community and preserved with its long heritage intact.