Collins makes history, becomes Eudora's first undefeated state championship wrestler
from March 2, 2000
A young man who wants to be a history teacher made Eudora history by becoming its first undefeated state champion wrestler.
Heavyweight Robert Collins was invincible on his way to the top of the Class 4A tournament Saturday at the Kansas Coliseum in Wichita with a 12-3 major decision over Chaparral's Matt Helms, completing a perfect senior season at 35-0.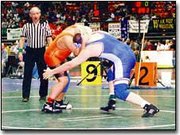 He got to the final match by dispatching three opponents Friday, his 19th birthday. Collins opened impressively with a first-period pin of Bill Robertson of Abilene, and in the quarterfinals pounded Scott Strasburger of Coffeyville with a 9-1 major decision. Only Hiawatha's Jeremy Lowe stood in the way of the finals. Collins pinned him in the last period.
Collins had to wait all day Saturday to wrestle again. Close to 10 p.m. the last match of the tournament unfolded. Collins was patient and waited for his 35-1 opponent to make a mistake.
"I knew if he didn't get the moves he wanted he'd shoot. He tried a bad single leg and I got a takedown pretty soon. He reversed me and I got an escape so the first period ended 3-2," Collins said. "He was really strong."
In the next two minutes, Collins scored two back points with a stack to go ahead 5-2.
"I put him on his back for three more points at the end and almost pinned him," said Collins of the 12-3 final. "The match was very draining and it felt like I took my leg bracelet off in slow motion. Everything was going real fast and then it stopped but then there was (coach Ron) Abel and I picked him up in the air and started yelling and screaming. Then I did the same with Coach Barnett."
When senior cheerleader Kristin Grosdidier awarded Robert his gold medal, he also lifted her in the air.
"It was close at the end, I thought Robert had him pinned," EHS coach Ron Abel said.
Collins is the fourth state champion in Eudora history. The last state champion, 189-pounder Joe Miller, is the reason Collins got in just three varsity matches as a freshman.
It was in his first year of high school that Collins went through a major growth spurt, shooting up five inches and gaining weight from 138 to 189 pounds putting him in the same weight class as Miller. The growth spurt continued through high school.
Today, the 6-2 senior weighs 245 pounds, which makes him small for a heavyweight, but he makes up for that with strength, quickness and wrestling technique.
Wrestling at the heavyweight division also has one other advantage: He can eat whatever he wants.
Collins made the state field as a sophomore. He went 3-3 to finish sixth and was named the Cardinals' most improved wrestler. His record that year was 24-19.
In his junior campaign, Collins medalled in every tournament, including taking fifth at state, and ended 29-7 as the team co-MVP.
This season, Collins took home eight gold medals including his state title. He recorded 23 pins and led the Cardinal squad in points. At state, he scored 28 of Eudora's 58 points and his team finished 10th.
Collins began wrestling in grade school in Hiawatha and went to Kids State one time. He said he was somewhat of a bully as a child and a classmate suggested he try wrestling to get his aggression out.
"It teaches you discipline," Collins said. "I also played soccer. We won the town championship one year, I was a pretty good midfielder."
He switched to basketball in eighth grade and back to wrestling as a high school freshman, earning four letters. Collins also lettered in football four years and so far, has two in track where he throws the shot and discus.