Harlow reinstated by city council
from June 15, 2000
After ironing out stipulations concerning his return, Bill Harlow returned to work Wednesday.
A statement released Tuesday by Harlow's attorney, Floyd Gehrt, Topeka, and Eudora attorney Jerry Cooley stated Harlow would return to work as Eudora's city superintendent.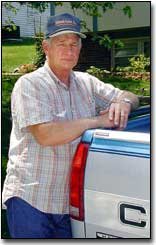 The position was eliminated during the annual appointment period at the May 10 city council meeting, but both the position and Harlow were reinstated at the May 31 meeting with a 4-1 vote.
The attorneys, Harlow and council president Willene Blackburn had been in discussions on why the council voted to abolish the position, the council's expectations as well as other conditions from Harlow.
He would not comment on any other stipulations concerning his return, but said he was glad the situation was settled.
"I get to go back and work with the people," Harlow said. "That's what I wanted to do all along. We're going to take care of business the way it's supposed to be done."
Harlow said his first order of business would be to get the employees back on schedule working on city projects. An official announcement was made at Wednesday's council meeting.
Mayor Fred Stewart said rumors of his possible resignation due to recent events are greatly exaggerated.
"They're going to have to beat me," Stewart said.