Anderson County too much for short-handed Eudora girls
Knee injury puts senior leader Melanie Smith out indefinitely
Anderson County, ranked fourth in the state for Class 4A, executed two three-point plays in the first two minutes to set the tone for the Lady Cardinals' 46-27 loss Friday night.
Despite the loss, Coach Gretchen Freeland said her team pulled together and played the best it could without its team leader, Melanie Smith.
Smith injured her knee practicing over the break and did not suit up for the game. Following a doctor's appointment Monday, Smith's physician determined she had a partially torn anterior cruciate ligament. She will not need surgery but will undergo physical therapy for a few weeks.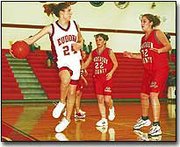 Smith's return this season is questionable.
Without Smith, reversals were evident. Junior Brandi Hime and freshman Rachel Abel stepped in to try and lead the team.
"It just killed me to have to sit on the sidelines and watch them play," Smith said.
From the get-go, Eudora (2-4) struggled to keep up with the Lady Bulldogs, trailing 16-7 after the first quarter. Lexee McDonnell scored 8 of her 15 points in the first quarter to give Anderson County the edge.
The closest Eudora came to a tight-scoring game with the Bulldogs was about halfway through the first quarter when it trailed by just three points.
"We played really well for having people playing in different positions," Freeland said.
In the second quarter, the Cardinals defense shut Anderson County down a bit, but offensively scored only two points to the opponents' three.
The Bulldogs outscored the Cardinals 12-6 in the third quarter to keep the game in their grasp.
The strongest surge for Eudora resulted in a 6-point run with four minutes left in the game. However, Anderson County still led 39-23.
Freeland was pleased that her Cardinals held the Bulldogs to just 46 points.
"Anderson County is a very solid team," Freeland said. "Our defense did a good job of holding them to 46."
Freshman Lauren Kracl led the Cardinals with 10 points. She also pulled down about 10 rebounds.
Jessica Bryant managed six points. Hime and Jill Woodward added four apiece.
"I think we played pretty well," Hime said. "Maybe the best we have all season. I was a little nervous at first, but thought I played my best game all season."