Local artist to host first solo showcase
Eudora's Granny B is at it again, painting her way into a one-woman show to be held in Lawrence.
Beverly Willis, also known as Granny B, will hold a showing of her paintings starting Friday and continuing until Feb. 5. The show, "Peace and Tranquility," will showcase a collection of Willis' acrylic paintings. It opens 5:30-7 p.m., Jan. 19 at the Lawrence Community Theater, 1501 New Hampshire Street, Lawrence.
Willis' show will coincide with the opening of "Last Night at Ballyhoo," a presentation by the Lawrence Community Theater. Getting the chance to present her artwork at the theater was a feat that required a lot of patience, Willis said.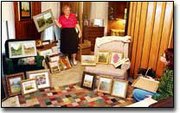 "I put in to do the show a year ago," she said. "I applied a year ago and got this spot. It's a part of their contribution to the arts."
Her paintings consist of flowers and landscapes. She began painting 10 years ago after suffering a stroke in 1989. She said her motivation for painting nature scenes developed from having a desire to paint things she couldn't get to while she was sick.
To prepare for the upcoming show, Willis gathered past paintings and added several new ones. Of the 35 paintings displayed, 20 of them are new.
"I've been at it for about six months," Willis said. "And of course at the last minute, I panicked and worked really, really hard and painted as hard as I could."
Willis will host a reception following the show as a thank you to the public for attending.
Although she's happy to have her house filled with her work, it's also nice to get it out in the open, Willis said.
"I must say, my front room does look a whole lot better without all that art stuff in it," Willis laughed. "It was stacked up to the ceilings."
More like this story