Recalling a picnic past
Residents recall earlier years of Eudora festivity
Ruth Wilson has picture-perfect memories of Eudora's annual CPA picnic. Raised south of Eudora in Clearfield until her family moved to town in 1940, her parents would take the family to the CPA picnic every year.
Now, Wilson lives across from the CPA Park where she has resided for 45 years. She has watched the festivities change over time, but one thing has remained static, she said the annual event continuously brings the community together.
"It was really a picnic because families would bring food," Wilson said. "We'd just make a big affair of it. A lot of us put it all together."
Wilson recalled highlights of CPA picnics during the 1950s that had a special place in her memory. Children had their own share of activities, but adults were not neglected, she said. One instance was a nail-hammering game, where adult contenders would hammer as many nails into a box during an allotted time period. Plus, there was always musical entertainment.
"I used to like the programs they had," Wilson said. "Anyone that could do anything would be on the agenda.
"I always remember the Ferris wheel and the merry-go-round. Those were the two important ones."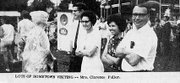 Eva Belle Gerstenberger said she misses some of the activities of the older days of the CPA picnic.
"We always had a (hot-air) balloon every year that went up," Gerstenberger said. "The highlight for old-timers was we always had a wonderful dance with wonderful music."
She remembered attending the picnic as a child in the 1930s. Since times were tough, children would earn their way to the picnic and its festivities by performing menial tasks, which were rewarded with money for games and food.
"As kids, we used to pick potatoes, then we got a dollar to spend for each day of the CPA Picnic and a new dress," the 80-year-old recalled. "It's a lot different than it is nowadays."
The picnic provided a way for the community, friends and family alike, to gather for a mid-summer reunion, she said.
"We didn't have TV like we do nowadays and I lived out in Weaver Bottoms," Gerstenberger said. "That was our life then. More or less, it was a place we went to visit our friends."
President of the CPA Committee for 14 years, Jerry Trober said his desire to get involved with the event's planning directly stemmed from his participation during his youth.
One memorable picnic brought an embalmed gunslinger, whose presence brought a Ripley's Believe It or Not attraction to some picnic-goers during the summer of 1962.
"Years back, I think I was a sophomore in high school, they had a guy that was a gunslinger and he was real, of course, but he was dead," Trober said. "It told who he shot and you paid a dime to see it. It was one of those things where there was always a line to see it."
Trober said he enjoys participating with the festival and hopes he can help structure memorable moments for attendees, such as the ones he's enjoyed since childhood.
"This is something that's been going on forever," Trober said. "Anybody that's my age won't forget it for sure."