CPA

Picnic relieves Eudora's dog days
Performers, music lovers lighten the festival mood
Amidst the wailing parade sirens and delighted screams emanating from the carnival rides, CPA Picnic participants had the opportunity to hear a different kind of noise.
As usual, music played a part in Friday and Saturday's celebrations of Eudora's annual community gathering.
The music began Friday outside the gazebo with a performance by the community band, led by Bob Foster, former KU band director and father of Robert Foster, Eudora High School band director. The program featured patriotic songs, both American and foreign, and songs popular during western expansion.
As the band prepared to play a scaled-down version of "The 1812 Overture," Foster introduced the piece, saying, "This is a little arrangement of a big number."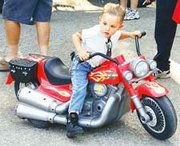 The song included a piccolo solo by Aimee Barber, 2001 Eudora High School graduate.
"I was in band for four years, and my director said, 'You're going to play,'" Barber said, explaining her involvement in the community band.
Before her solo came up, Barber closed her eyes and nodded her head to the music while fingering inaudible notes on her piccolo. During a high-pitched trill at the end of the solo, the audience, seated on bleachers around the gazebo, clapped furiously.
The musicians ranged in age from a gray-haired man, wearing glasses, a dress shirt and slacks to a teenage trumpet player in sneakers and a cut-off T-shirt.
The band included parents and children, like Mary Wolford and her son Chris, an eighth grader. As Mary Wolford put a borrowed clarinet away, she admitted that, until recently, she hadn't played in 18 years.
"It was quite fun," she said. "I played for a week."
Mary Wolford said she joined the community band's CPA Picnic performance because of her son.
"Some kids sent their parents and didn't come themselves," she said, motioning to a man in the percussion section.
During the performance, musicians' feet, dressed in sandals and flip-flops, tapped to the beat of the music. In between songs, some players fanned themselves fiercely.
Bands were gone from the usual Saturday line-up this year. Organizer Eldon Brown said finding bands proved difficult, in part because of the money necessary to draw musicians. Although the karaoke leader and disc jockey played in a country band, their price was too steep, Brown said.
Brown said the country music format appeals to a broad audience in terms of age.
DJ and karaoke leader Dusty Workman fiddled with controls on equipment kept in the gazebo in between taking his turn on the microphone. Whether he was singing karaoke, trying to remember the words to "Trouble" by Travis Tritt, or talking to the crowd, Workman tried to entice singers and dancers to get off the bleachers and onto the dance floor or the microphone.
Workman, who plays drums and sings for the country band Dixie Road, said playing DJ was something he did on the side.
"I enjoy the people more than anything," Workman said of the karaoke singers. "I usually sing a couple to get them started. Once you get them up there, they never get off."
One brave soul was William Ellis of Lawrence who sang "The Shake" by Neal McCoy in the gazebo.
Dressed in black jeans, black boots and a Warner Brothers Tasmanian Devil shirt proclaiming him to be a "Trouble Maker," Ellis wiggled his lower body while singing the lines "What really turns me on is when you shake."
How often does Ellis take to the microphone?
"When I get the nerve to," he said.
Oh, and some nudging from his mother-in-law didn't hurt either.