Despite the heat,
CPA

picnic kicks off in high gear
While the excessively hot weather may have made it hard to tell high noon from evening, the hot, muggy air couldn't stop the telltale signs that the evening events of the CPA Picnic, July 19-21, had already kicked into high gear.
The carnival, which less than a week earlier looked like heaps of metal and semi-trailer trucks, opened Thursday next to the middle school. At the midway games, teenagers vied for prizes, including posters of celebrities running the gamut from benign boy bands like N'SYNC to cheesecake pinups of Carmen Electra.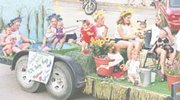 The younger ones bounced up and down on the track of the "Gogator," a pint-sized roller coaster, or smiled ecstatically while sliding down two story pink slides on burlap sacks. Between the rings and dings of games and rides, children cried or squealed, depending on their mood and, perhaps, their proximity to cotton candy and other carnival treats.
Although carnival lights flashed and rides bounced and bobbled until Saturday, activities like the kids' parade were one-time events.
Children made their way down Main Street on foot, bicycle, wagon and kid-sized motorized vehicles. While some waved with beaming faces, others shuffled shyly along, heads pointed toward the ground.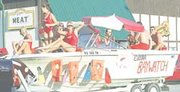 Saturday brought more Eudorans and out-of-towners downtown and to CPA Park. Before the parade began, older Eudorans in lawn chairs in front of Red House Recording, adults planted on flower beds in front of Kaw Valley State Bank and kids in pick-up truck beds lined Main Street.
The sounds of the parade sirens preceded the floats, cars and marchers, leaving parade watchers to crane their necks southward for any sign of the parade.
When the parade did make its way downtown, fire trucks, an EMS truck and police cars with wailing sirens headed the procession. A motley assortment of Shriners followed in close pursuit: Shriners in tiny cars. Shriners in Buicks and Lincolns. Shriners on trendy scooters. Shriners in go-karts that seemed to exceed the 20 mph speed limit.
The floats that followed honored various events and ideas, ranging from the floods of 1951, the fired/retired/laid-off "undesirables" of Farmland, as their sign said, and television's campy program "Baywatch."
Back at CPA Park, the smell of sizzling meat and lighter fluid permeated the picnic area. Members of Holy Family Catholic Church dished up homemade pies and flipped burgers amidst temperatures seemingly as hot as the grills.
As the sun went down, the volume at the gazebo went up as the DJ tried to entice dancers to the floor with country music and karaoke. Although it took a while for adults to brave the dance floor, half a dozen children had no qualms about shaking things up.
To outsiders, the picnic may have seemed like an ordinary community festival.
Ask any Eudoran: Everyone comes home for CPA.