Cardinals moving into the backstretch
EHS

track team prepares for league meet
Eudora High School track coach Dave Durkin said his team would have to turn things around before Thursday's Frontier League meet at Gardner. He said he has every ounce of confidence that it can.
Throughout the season, Durkin has seen many of his Cardinals wander off track but still come out on top. A majority of those competing have also earned their personal best marks or broken a school record.
Besides the Cardinals most recent meet in Wellsville, Durkin has been pleased with his team's performance.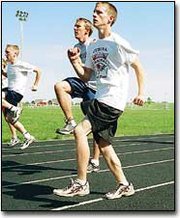 There were few strong finishers Friday in Wellsville, which could hinder some perspectives of what the Cardinals will be capable of Thursday afternoon.
"If we're not ready today, then we definitely won't be ready for Thursday," Durkin said after practice Tuesday.
However, he also said that he is confident that his team will be ready for the league meet.
"The kids are gonna be ready," Durkin said. "We talked about it and they know they're going to have a nice redemption at league."
As far as the fielding events go, assistant coach Joe Hanna will be expecting his throwers to shoot for their personal records to compete solidly at the meet.
"They're going to have to perform very well to place," he said.
Both coaches suspect that Baldwin and Louisburg will be the two teams to give Eudora a run for its money.
Durkin said he thought his team would still have a strong shot at first.
Baldwin has always been a dominant track school, but this year, said Hanna, it's exceptionally strong.
After Thursday's meet, the Cardinals will have little more than a week to prepare for the May 18 regional meet at Tonganoxie High School.