The fruits of hard labor
Vineyard produces award-winning wine
At the start of typical day at Davenport Orchards and Vineyards, owner Greg Shipe begins working in his field at sunrise. He makes his way down 25 rows of grapes, each row stretching one-quarter of a mile, spraying his crops to battle disease and the always-hungry bird looking for a free meal.
Monday was like any other day for Shipe. And, this spring could be like any other spring for the grape grower and wine maker. The grapes are growing and so is the business of the rural Eudora farmer and entrepreneur.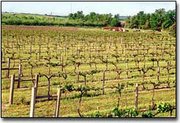 Shipe co-owns the orchard with his wife, Charlee Glinka. Together, the two care for the orchard, located at 1394 E. 1900 Road, which was started by C.W. and Mary Davenport in 1960. In 1997, Davenport Winery opened, making it the newest winery in Kansas. Shipe said the couple began growing grapes in 1990, but it took them seven years to perfect the fruits of their labor.
"You have to learn how to raise grapes first," he said. "To raise clean grapes you have to control the disease things you don't see until it's too late."
Spraying pesticides and treatments help fight disease and the occasional weed, but there's always that amount of personal care when raising grapes, Shipe said. Sometime he weeds by hand, which can turn laborious. When the grapes ripen in August they are handpicked, but Shipe usually enlists the help of others and treats them to a meal during the day.
"A lot of people who come to pick fruit have an interest in grapes," he said. "It's a lot of fun. Plus, if you have 10 or 20 people picking in a morning you can get a lot more done."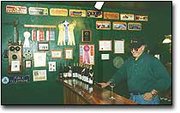 Shipe said he appreciated the manpower, considering it requires 17 pounds of grapes to make one gallon of wine. Davenport Winery produces 2,000 gallons of wine a year, Shipe said.
Once red grapes are picked, they are cleaned of their stems. White grapes are pressed and also removed of their skins and stems. Then, yeast is added and the wine ferments for three to six days. Finally, the wine is put in oak barrels and left to age. Sweeter wines sit as little as three months. Some "dry" or less sweet wines sit longer, such as the Norton wine that ages for 14 months.
After all that, the wine is ready to be sold and is available only at the rural Eudora business.
"Everything is sold here right now," Shipe said. "And, most of our business is repeat, which is great."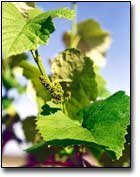 Shipe's wine is not distributed to retail stores and laws prohibit mailing to a majority of states. However, some area retailers have expressed an interest in the red Norton wine, he said. Last June, the Norton wine took a bronze medal out of 1,600 entries in the International Eastern Wine Competition in New York. In July 2000, Davenport's Peche wine took the silver medal at the Indy International Competition at the Indiana State Fair, beating out 2,500 competing entries. The winery's Charlotte Red also won a bronze medal.
Shipe said the awards were a tribute to Kansas wine and a reminder of how the business has come a long way in a short time. He recalled some of the earlier struggles growing grapes and learning to produce award-winning wines.
"There were some growing pains in raising grapes," he said. "A lot of times I thought about quitting."