Apparent heir
Kobza likely choice to fill in for departed superintendent
Eudora High School Principal Marty Kobza likes having a hand in shaping the education of students. Thursday, Kobza will likely get the opportunity to take on that responsibility for the whole district.
The Eudora Board of Education will have a special meeting at 6:30 p.m. Thursday in the district office to choose an acting superintendent for the district. On Monday, superintendent Dave Winans submitted his resignation after one year on the job. School Board President Marion Johnson said he could not make anything official without a vote from the board, but indicated that Kobza would likely be the one to fill in, at least temporarily.
Kobza, 33, has been working toward his doctorate degree from Kansas State University and was approached by board members, who asked him to indicate his interest in the position.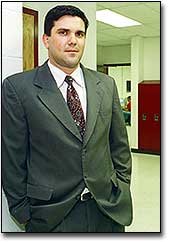 Kobza said he was very interested.
"It's one of those situations where I got into education because it was the old 'I want to help people' type of thing," he said. "I've always looked at where I could have the greatest impact. From my perspective, I've been able to have a greater impact on a larger number of students as I've moved vertically in the administrative aspect of schools."
Kobza obtained his undergraduate and master's degrees at Benedictine College, Atchison. He has taught social studies in Phoenix, Ariz., and Baton Rouge, La. He also taught at Atchison for two years and at EHS for two years. All his teaching has been at the high school level and all positions have included coaching. This is his third year as principal at EHS.
If the board votes to approve Kobza as acting superintendent, his immediate challenge will be to dive into the 2001-2002 budget. He said budgetary processes are part of his training and he's no stranger to the experience.
"Through the building level and administratively, we look at budget processes quite often," he said. "It's part of everyone's training when they get their master's and doctorate degrees."
As Kobza pursues his doctorate degree with his dissertation to be finished by December 2002, he's hopeful he could step up even further if given the opportunity by the board.
"I pursued my doctorate with the goal that one day I would be able to be superintendent," Kobza said.
Johnson said more details would be released after Thursday's meeting, but added that he believed Kobza could be a worthy candidate for the permanent position.
"I guess he's just the logical pick at this point to answer day-to-day questions until we reach a solution to where we're going," Johnson said. "There's no doubt that he's a qualified individual and he'll be very good for the school district. He's done a real good job and I would think that he'd be a very good superintendent if that all plays out."
More like this story