Historical society plans on city-wide Old Glory effort
Joy Clouse of the Eudora Area Historical Society wants to make American history in Eudora this year.
Clouse and Rex Burkhardt, a longtime member of the society, came up with the idea of trying to get every home in Eudora to display an American flag. She said that raising an American flag in one's yard shows a great deal of respect for the nation's heritage and history.
"Our national flag symbolizes our living country," Clouse said. "It is emblematic of the respect and pride for our nation."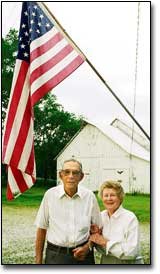 Clouse said the movement to have an American flag waving in front of every house of Eudora could unite many of the city's civic organizations, such as Jaycees, Chamber of Commerce and the Lions Club. She also noted that the city-wide flag effort will bring residents together regardless of their various opinions concerning outlying issues.
"There is no focus on religion or politics," Clouse said. "We are just showing respect for the flag and pride in it. It is something everyone can go for."
Clouse said the society plans to begin its effort on Memorial Day weekend but it does not want the flag waving to be limited to holidays. However, the Society will use holiday events such as Memorial Day, the CPA Picnic and the Fourth of July celebration to raise awareness of the patriotic project. While EAHS members are still accepting suggestions on how to distribute flags, the society will hand out flyers about the effort and have the young people wave small flags at the big Fourth of July celebration. Clouse added that the campaign will be beneficial to both new and old residents of a rapidly changing community.
"As the landscape of our once sleepy little town changes, we put a call to (the old motto) 'Rally 'Round the Flag, Eudora,'" Clouse said.
Clouse said that the goal of getting every Eudora resident to fly an American flag may be difficult, yet it is attainable.
"Everybody must come together to achieve this," Clouse said. "It would be neat for Eudora to be known as the first city to have everyone fly an (American flag)."
Various sizes of the American flag are available for sale at Arrowhead Hardware, 736 Main Street.