Brooke fights as Relay for Life nears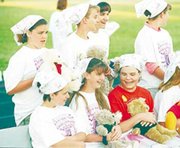 No one can accuse Brooke O'Grady of not living her life to the fullest.
Though the 15-year-old continues her battle with cancer, she managed to make it to another goal she lived to see her brother, Trevor, graduate from Eudora High on Sunday.
She was unable to attend the ceremony, but she celebrated with her family at Trevor's post-graduation party.
"Her two oldest brothers carried her out on Sunday to let her see some of the party," mother Judi O'Grady said. "But she enjoyed the graduation. She said it was a nice party."
But hanging on comes with its price for the teenager.
After the graduation party, Brooke slept for 15 hours. She started taking morphine for her pain Jan 1. She began with .5 milligrams of morphine per hour, but on Tuesday the dose went up to 24 milligrams per hour.
Deni Nauss, registered nurse with Craig Home Care, Overland Park, said as the morphine increased gradually, Brooke wasn't experiencing pain relief until between 10 to 12 milligrams per hour.
"She was having a lot of pain she was not admitting to," Nauss said.
When she is awake, her appetite is negligible, Judi said.
"She's not eating anything," she said. "She's very weak."
Nauss said Brooke's health declined within the past two weeks, and her patient has had more problems breathing as she continues her battle with cancer.
Judi said her daughter's motivation is a mystery.
"I just don't know why she's still here," she said. "It's unbelievable. She doesn't do many normal things. Her body just won't quit."
One of Brooke's motivators to press on has been Relay for Life (RFL). The annual RFL event helps raise money for cancer victims and research. Though her daughter said she hopes to stay alive until the event next week, Judi O'Grady has mixed feelings about seeing her daughter persist.
"It's hard to see her like this," Judi said. "Like (Monday) night, she would cry. Her head hurts and her legs hurt. That's harder than letting go. At least, that's what I say now, anyway."
Brooke has taken action to ensure her presence at RFL.
"She wrote a letter to the relay that we're not supposed to open until the night of the relay," Judi said. "It's driving me crazy, sitting out there and wondering what it says."
For the O'Grady household, the battle against cancer continues. RFL begins 7 p.m., June 8 and runs overnight until the morning of June 9.
Anyone interested in more information on RFL may call Judi O'Grady at 542-2208.