Casagrande: A big houseful for Thanksgiving, a big heart for the needy community
Pam Casagrande's Thanksgiving plans include dinner for 200 people. Oh, and then she'll help take meals to about 230 others.
But Casagrande won't have to pull out the metal folding chairs and card tables for her dining room. The 200 guests will eat Thanksgiving dinner at First Christian Church in Lawrence thanks to the Lawrence Interdenominational Nutrition Kitchen.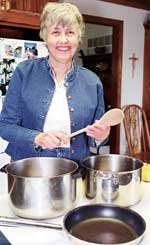 Although the program serves meals Tuesdays, Thursdays, Saturdays and Sundays to about 110 people, the Thanksgiving dinner usually has a larger turnout, plus the meals delivered door-to-door.
"It's a big task," said Casagrande, a volunteer from Eudora. "The first one we had 16 years ago there were 30 people. You can tell what we have been doing is serving the community because there are hungry people out there."
LINK gets the names of many of the people it delivers to through organizations like Meals on Wheels and Independence Incorporated and tries to reserve the service for those with greatest need. Some of those meals will be brought to Eudora, too.
"We just try to do it to provide people with meals who really can't get out and people who are alone and don't want to get out," Casagrande said. "Anyone who wants to join us for the meal is welcome."
As with other charities, LINK gets more attention and donations during the holiday season.
"It's sort of like everybody goes away after Christmas," Casagrande said. "I don't know why that happens. I've said a couple of times we need to find a way to get our name out there in June or July."
Those who do wish to contribute to the Thanksgiving meal have two options. Monetary contributions or turkeys can be donated, but people wanting to drop off a 10-pound Butterball need to call Dwight at 842-7676 to make sure the bird has a refrigerated place to stay until Thanksgiving.
Bringing the turkeys to the kitchen requires a collective effort. The day before Thanksgiving, a Lawrence butcher carves the turkeys, which will have been cooked at Don's Steak House.
"It's just like everyone in the community does something," Casagrande said. "Nobody has to do anything big. I like that. That's why the food kitchen has worked."
Those wanting to help can get involved in another way. LINK needs volunteers to work two hour shifts between 11 a.m. and 4 p.m. Nov. 26 to set up, clean up, and serve and deliver meals. Those interested can call 865-3985.
"We like to know who's coming, and we like to have a job for them," Casagrande said. "Once we have enough volunteers, we don't need any more. I always think when you use volunteers you should have a job for them."
The kitchen relies on community donations for each meal and has never had a fund-raiser.
"People who come eat until they're full," Casagrande said. "It's not like you go to McDonald's and eat what you get."
Although the kitchen is housed in Lawrence, meals will be delivered to Eudora.
"Even though we're not sitting right there in the community, people seem to understand that there's a lot of hunger and it needs to be taken care of," she said.