Antiques bring something new to downtown
In the tradition of the building's past as a variety store, Pat Trefz has a sundry items stocked in her store, Home Again Interiors, L.L.C, and The Nookery, located in the Main Street building that has been in her family for generations.
Mixed in with antique buffets and couches are wire racks for items ranging from wine to towels. Below collector decanters in the shape of people sit jars of soy-based candles made in Oklahoma. Books, stationery and other items round out the mix.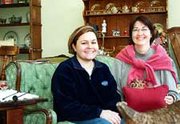 "It's very eclectic," Trefz said. "We have some antiques and we have some new things. We're trying to cover a pretty wide price range."
Trefz and her business partner, Wendy Gish, opened the store about three weeks ago on the heels of the Westminster Tea Room, which opened down the street last month.
"It's exciting to see this much happening," Trefz said of downtown business.
The pair are happy to count other new retail shops and restaurants like Quilting Bits and Pieces, Miss Judi's Gift Shop and Home Decor and the tea room as neighbors.
"It's nice to go shopping from window to window," Gish said.
The building's past solicits interesting tidbits from shoppers.
"Everyone knows it as the variety store," Trefz said. "It's neat for people to come and tell me stories. Those are the shelves where they used to buy candy and overalls. It was kind of a little bit of everything."
Now Trefz and Gish try to store those shelves and the rest of the place with items from local artists, like a wooden chair decorated with a collage of magazine images and beaded jewelry. The soy-based candles benefit soybean farmers, too.
Trefz and Gish met while working at an office in Kansas City, where Trefz still works during the week. Interiors is open Thursdays from 6 p.m. to 8 p.m., Saturdays from 10 a.m. to 4 p.m., and Sundays from 1 to 4 p.m.
"We decided we'd try this," Trefz said. "It was an appropriate time I guess. She supported me."
In return, Trefz supports Gish, who now writes when she's not working at the store.
"She reads my book and makes me feel like it's not terrible," Gish said.
In the future, the duo also hopes to host acting and writing workshops for children.
As for the store, Trefz said she was anxious to get feedback from the community to help guide her and Gish in purchasing items for the store.
One of the great things about the store, Gish said, is the competitive pricing, meaning customers don't have to have a pocket full of cash to afford antiques. Moreover, she said, a lot of the pieces have "character," meaning they're in a condition to be used and enjoyed. Some items lend themselves well to projects where customers might alter their use, color, shape, etc.
Trefz said a couple came in the other day and commented on a coffee table they said could withstand a house full of children. In a way, Trefz takes the same approach.
"If I can't sit on it," she said, "I don't want it on the floor."