VanAnne breaks personal best at invitational
Youth was served on Thursday when the senior-less Eudora High School boys' cross-country team placed five runners in the top 25 of a 49-person race at the sixth annual EHS Invitational.
"This is a fast, fast course and it helps to be experienced with it," Coach Paul Boone said. "We didn't get too tired and we were familiar with it. It was a time for the runners to get some good (personal records)."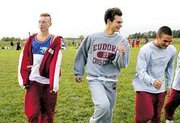 Sophomore Tighe VanAnne, a first-year competitor, broke the 18 minute mark for the first time in his career with a 7th place, 17:31 effort on the 3.1 mile course. VanAnne said his success on the home course will give him confidence as the team races into Gardner for the Frontier League championship meet on Thursday.
"I thought the course was fun because we already knew it real well," VanAnne said. "It gives me a lot of confidence. I didn't think I could do that good but now I think I'll do good at regionals."
Juniors Andy Besser, 15th and 18:22, and James Barr, 21st and 18:40, both had their best meets of the season but the biggest breakthrough performance of the afternoon belonged to freshman William Rodriguez who finished seven seconds behind Barr in 22nd place.
"William Rodriguez is making big strides and learning when to push," Boone said. "He had a giant personal record and a breakthrough race."
Sophomore Jeff Jones, 23rd and 19:06, juniors Austin Roberts, 28th and 19:32 and John Thoennes, 35th and 20:09 also posted personal bests at the lone home meet of the season.
Gardner-Edgerton won the EHS Invitational with a score of 33 followed by Wellsville, McLouth, Eudora, Louisburg, Osage City and Santa Fe Trail. Wellsville junior Chris Caruthers won the EHS Invitational with a time of 16:56 but missed the course record by 22 seconds, set by Kansas University track member Brian Blachly five years ago. Caruthers said it was nice to win a race on the turf of one of his school's biggest rivals but he hopes to resume a personal rivalry with runner-up Aaron Ballew of Gardner-Edgerton at the league meet.
"It was a pretty good course," Caruthers said. "With all the rivalry and stuff it was good (to win). This course is more in the open than Gardner;it was a good push for league."
Boone said the Cardinals are excited for the stretch run, which begins with the Frontier League meet at Gardner-Edgerton on Thursday and the regional meet Oct. 20 in Ottawa.
"With all the league teams at Gardner, it is a race for pride and I'd love to see how we can do against those other teams," Boone said. "It is a competitive course and you have to be mentally focused everywhere along the course."
On the girls' side, senior Jill Abel led all Cardinals with a 14th place finish, 14:16 and senior Estelle Montgomery earned medals in the 44 person-race with a 23rd place, 14:49 effort. Senior Rhiannon Tiner placed 36th with a time of 15:51.
Montgomery said she did not enjoy the Eudora course but thinks it was a good warmup for the Frontier League meet at Wellsville.
"Our course is in a big field like Wellsville's," Montgomery said. "This meet makes us more confident for Gardner, the ultimate cross-country course."
Gardner-Edgerton also won the girls' meet, and was followed by Osage City, Wellsville, McLouth, Santa Fe Trail and Louisburg. McLouth junior Courtney Edmonds, who also won the Tonganoxie meet earlier in the season, triumphed at Eudora with a 13:04 finish on the 2- mile course.
"That last straight away was tough for me because I was in the wind," Edmonds said. "This and Tonganoxie are probably my easiest courses."