Eudora stomps Buffalos
Cardinal girls 'open eyes' with 54-38 win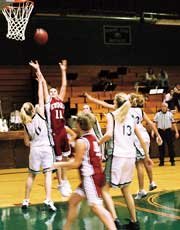 The Eudora girls basketball team exploded Thursday in the second half, beating Prairie View 54-38. Coach Cara Kimberlin called the team's performance, especially in the second half, the best to date this year.
"I think we opened some eyes," Kimberlin said. "We hadn't played like that before. They're slowly getting an idea of how good they can be."
Senior Lauren Kracl led the charge with 23 points and 17 rebounds. A 31-29 halftime advantage quickly became a blowout into the third quarter.
Prairie View was stifled by the Cardinals defense in the third quarter, scoring its only points on breakaway layups.
Kimberlin said her players made the proper adjustments to Prairie View's motion offense late in the second quarter, which carried over into a dominant second-half defensive performance.
"I could tell the girls were beginning to figure out their motion offense late in the second quarter," Kimberlin said. "When we began fronting their post players, it made it really tough for them to turn and shoot as they like to."
Fronting the post was something Kimberlin had stressed to the players in the young season. When Prairie View was shooting well early on, the Eudora defense was having trouble denying the passes into the low post. Once the Cardinals were able to remedy that problem, the Prairie View shot selection went south immediately.
"Fronting the post player is uncomfortable for most defenders," Kimberlin said. "It takes them out of their rebounding position, but it's needed at times to take teams out of their rhythm. In this case it really threw Prairie View out of sync."
The game went back and forth through the first half. Prairie View used its significant size, especially at the guard positions, to score at will on the Eudora defense. The Cardinals matched the offensive display by taking care of the ball and patiently waiting for high-percentage shots. When they came out in the second half, Kayla Moyer got the Cardinals off and running with four consecutive baskets. Eudora never looked back.
"We played totally as a team, meaning we made that extra pass to get the shot we needed," Kimberlin said. "We feel good playing like this going into the winter break, but at the same time it's unfortunate that the momentum we have now might be lost because of it."
The Cardinals enter winter break 2-0 in league play and 4-2 overall. Team practices will resume Monday. The team's next game will be at home against Louisburg Jan. 6.