Area farmers understand antique tractors' pull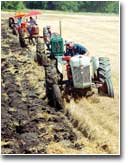 If the differences between the tractors of yesteryear and today aren't obvious enough, just ask Robert Gabriel to elaborate.
"There's no comparison," said Gabriel. "You can't get much work done in an hour's time with these."
In fact, one time down his field and back would take these tractors about 10 minutes, he said. So why, then, did Gabriel invite area farmers to bring their Eisenhower-era and older equipment to plow his field Saturday morning?
"We used to plow together," he said of area farmers. "Neighbors would get together and plow together. Of course, nobody has done that for 20 years."
Except in Eudora, where for the last four years Gabriel and Richard Knabe have organized other area farmers in taking turns plowing whomever's field they can.
"It's just playing in the dirt," said Gabriel's son Bobby Gabriel.
Or as his wife, Michelle, put it, "boys with their toys."
And for most, the annual plowing event is the only time farmers can put their collectibles to their intended use.
"They have modern ones that do it quicker," said Russell Pearson. "A lot of these (tractors) don't have a job."
Except for Mark Lauber's 1951 Ford, which he said he used to haul leaves from his home in Eudora.
"This is my first time with a plow," he said.
Most antique tractors were purchased from other collectors rather than passed down through families, the collectors said. Often times, Lauber said, collectors stayed loyal to one type of tractor or another.
"They get hooked on International or John Deere or something," he said.
Pearson said brands experienced popularity in different areas. For instance, in the farmland south of Eudora, where collectors plowed Saturday, Internationals were popular, but north of Eudora, Pearson said, people tended to like John Deere's.
In fact, Lauber's 8N Ford was made in Coffeyville, in southeast Kansas, but Lauber purchased it in Ottawa. But what really made the tractor unique, he said, was its funk conversion engine, whereby farmers would give the machines more horsepower.
"It's the first hot-rod tractor," he said.
Pearson's tractor had the distinction of being able to run on gas or kerosene.
"It's kind of neat that you could run it on kerosene if you wanted to," he said.
Many of the collectors had tractors from the 1930s and 40s, Bobby Gabriel said, including a 1930s steel wheel tractor that stood out in Robert Gabriel's field Saturday among the "newer," rubber-tired models. For a while, six tractors would travel in tandem, each machine taking its turn to break up the chunks of earth below, each tractor with its own unique sound.
Today's farmers head to the fields on tractors equipped with air-conditioned cabs and radios, like the one Michelle Gabriel said her family had. The collectors made due with -- at most -- a jug of water and an umbrella, like the one with which Richard Knabe outfitted his 1942 Allis-Chalmers. Knabe also decorated the tractor with American flags.
Occasionally one of the children watching the plowing would take a ride on the spare seat. According to Michelle and Bobby Gabriel's daughter Lauren, who sat in back of the family's pick-up truck, there was an order that governed taking turns on the tractor.
"One (child) will ride around for a bit and then go play while another one rides," she said.
With the annual plowing event, what was a chore for farmers 50 or more years ago is now play for their progeny, who delight in the tractors of their fathers and grandfathers.
"It's just neat to come out and see everybody's tractors," Pearson said.