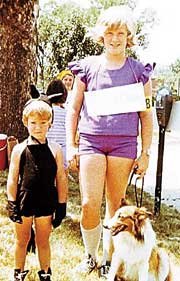 Organizers are hoping an upcoming 4-H meeting will draw 4-H'ers who haven't been around the organization in a while. A long while.
The Eudora 4-H is planning a celebration in November for its organization, which turned 50 this year. And organizers are trying to get the word out to past 4-H'ers and past 4-H parents, whether they live near or far.
"We had a list during CPA," said 4-H organizer Kathy Box. "I think we got a handful that used to be 4-H'ers."
The anniversary celebration will culminate Nov. 22 during a banquet at Building 21 on the Douglas County Fairgrounds in Lawrence. The event, which starts at 6:30 p.m., will include a catered dinner, entertainment and a slide show of 4-H through the years. Advance tickets are $7 each. Those planning to attend may call Box at 542-3866 or Pam Hadl at 542-2418, or Jamie Knabe at 542-2597.
"All the alumni and families are welcome," Box said. "We encourage them if they still have old fair projects or fair books or pictures they'd like to bring to have displayed. We're trying to include the new 4-H'ers and old 4-H'ers."
Box said that included inviting people who may not have been in 4-H themselves but were parents of 4-H'ers.
"Being a parent, I was never in 4-H," Box said, adding that as a 4-H parent she's been largely involved in the organization.
According to Eudora's bicentennial history book, the Eudora 4-H Club first met Jan. 28, 1953 at Eudora City Hall. At the time, Arden Ott and Eva Belle Gerstenberger were the leaders, with 38 4-H'ers enrolled. Looking back at old 4-H material on file at the Eudora Public Library, it was apparent how many things had changed since then, Box said.
"It's so interesting to go through that stuff," Box said. "Back then, the girls did the inside things -- the sewing and cooking. Occasionally you'd find one in the animals.
"You would never see one of the boys in the cooking or sewing projects. I think it's changed for the better."
The library's collection of old photos offered a fun glimpse into 4-H of the past, too, Box said.
"There was one I was looking at of Merilee Dymacek when she was in 4-H," Box said. "It looked just like (her daughter) Kristen when she was little."