Cards get in the swing of it
Cards let 'em rip in Wellsville whacking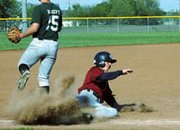 The rain may have dampened the goals of the Eudora Cardinals baseball team over the week.
Eudora was scheduled to be at home against Wellsville April 20 but a spring shower intervened. The game was immediately pushed back a day, setting the stage for doubleheaders on back-to-back nights.
The Cards shut out Wellsville 6-0 in game one and then handed the Eagles a 13-1 run-rule rout in the nightcap.
Eudora traveled to Spring Hill the next night.
Spring Hill stymied the Cardinal attack, cruising to a 4-1 opening victory.
The Broncos then stunned the Cards with 11 runs in the first two innings of the nightcap. Eudora called on its pride, posting incredibly 10 unanswered runs, pulling within one.
Spring Hill scored three in the bottom of the sixth to end the making of the miracle.
Eudora got healthy again by pummeling Prairie View 11-1 and 20-2.
"The first game we didn't play very well," head coach Dirk Kinney said. "The second game today we played like a top-10 team.
"We fielded better at times, threw pretty well and for the most part I thought we swung it pretty well."
Junior Joe Kaup rebounded from a disastrous start at Spring Hill with a complete game victory -- five innings, one run and five strikeouts.
Senior Troy Van Horn was 2-for-3 with a double, two runs and two RBIs. Junior Rod Evinger had a triple and three runs scored.
Game two starter sophomore Kyle Brouhard was the beneficiary of 20 runs of support.
Sophomore Miles Cleveland was 1-for-2 with three runs and an RBI. Junior Cole Massey was 1-for-2 with three runs scored and two RBIs. Junior Paul Smith was 2-for-2 with two runs and three RBIs.
The collective 31-3 thrashing was a message.
"We didn't want to have two wins; we wanted two run-rules," Kinney said. "I harped on them Saturday, and I harped on them yesterday that if they don't run-rule both, they were going to see me madder than I was at Spring Hill."
And that's saying something.
Eudora squandered a quality start by senior Chris Gabriel in game one. Gabriel went the distance, allowing four runs and striking out five.
The Cards just couldn't generate any offense.
"Spring Hill pitched well, and you've got to tip your hat," Kinney said. "But we left too many guys on. We just didn't hit very well.
"We were ranked No. 7, but we won't be ranked anymore after that showing."
Kaup took the ball in the nightcap in just his second career varsity start. He just didn't have it and was pulled from the game down 4-0 with the bases loaded and two out in the first.
Smith took over, allowing four more Broncos to cross the plate before closing the door.
Spring Hill scored three more in the second, taking an early 11-0 lead.
In an amazing display of resilience, the Cards mounted a comeback, scoring four in each of the next two innings. By the top of the sixth, Eudora had pulled within one at 11-10.
Senior Aaron Westerhouse led the rally with four hits, two runs and an RBI. Van Horn was 3-for-5 with a pair of runs and RBIs. Evinger was 2-for-4 with three RBIs.
The Wellsville whacking was more Eudora's style. Evinger pitched a complete game shutout -- a gem opposite Wellsville's Cody Gardner, a first team all-league selection a year ago.
Westerhouse and sophomore Chad Griffin provided the offense with two RBIs each.
In the second game, Eudora's bats broke free. Every starter scored at least one run, and four batters notched multiple hit games.
"We finally put somebody away," Kinney said. "In the second game we just swung it like we should have swung it all year. We just started lighting it up."
Next for Eudora is a Thurday showdown with Paola. The Cards will throw Evinger and Gabriel.
"The Paola games are huge," Kinney said. "They're at the top of the league, and we're at the top of the league.
"Paola is well-coached and fundamentally sound. It's going to be a battle, and it's going to be a very intense game for us."
With the losses at Spring Hill, Eudora has lost the luxury to fail -- the team needs a good showing at home Thursday.
"We've got to get two," Kinney said. "If we get two then we're 11-3. That's pretty impressive for a group everyone thought would be struggling this year.
"I think some people underestimated us a little bit this year because everybody thought we had lost so much. We're young, but we're experienced."