Kracl's fourth quarter
Buzzer sounds on Kracl's high school career with all-star game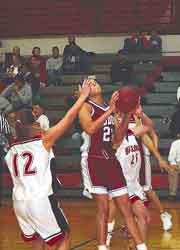 Head basketball coach Cara Kimberlin and her superstar forward Lauren Kracl celebrated the end of a Cardinal era Aug. 4 in Topeka, where Kracl competed in the Kansas Basketball Coaches Association's annual all-star game at Washburn's Lee Arena.
Kracl recently headed off to Missouri Western State College where she'll get an education on a volleyball scholarship. The talented two-sport star was the only Kansas player to be honored as an all-star in both basketball and volleyball this year.
Kracl's return to the basketball court comes amidst a strenuous off-season dedicated to a future in volleyball. The rust, however, was present only to Kracl's excessively self-critical eye.
"She was a little disappointed in the way she played, but she started, and that alone is an honor," Kimberlin said. "The first thing out of her mouth after the game was, 'I'm sorry.'
"That's just Lauren. She thinks because she missed a shot or two and didn't score her usual 24 points that she didn't play all that well.
"But she held her own and did absolutely fine. She'll probably tell it differently. She's awfully critical of herself."
Kracl primed with a few shoot-arounds at the middle school and practices with her fellow all-stars the night before and day of the game.
"She hadn't picked-up a ball in while, but I hope it was still a good experience for her," Kimberlin said. "I'm sure it was. And just to be honored by other coaches in the state of Kansas should be enough."
That honor extends to Kracl's teammates and coach.
"From a program perspective it means a lot," Kimberlin said. "She'll tell you that she doesn't get there without her teammates getting her the ball and being unselfish.
"For me it's a great honor to have one of my kids there. I'm a member of the coaches association putting the event on, so when one of your kids are chosen for this kind of thing it makes you feel like you belong there."
Kimberlin hopes the all-star experience is not her last.
"My goal is to get a kid in there every year," Kimberlin said. "Now, that's not going to happen. It's not every year that you have a senior standout like that.
"I just hope it's not a once-in-a-lifetime thing. Maybe it can be an every two- or three-year thing."
Replacing Kracl will certainly prove an unenviable task -- but a task that's already begun nonetheless.
"It's the first time we played summer league with all those seniors moved on," Kimberlin said. "From a coaches perspective you're not going to replace a kid who scored 24 points a game for you just like that. You can't replace any of those seniors.
"It's time to build on what we started and build a new history."
Kracl's tenure was groundbreaking in the building of the program's new identity and history. Her career helped elevate the Eudora Cardinal athletic department to previously un-reached heights.
"I don't think there's any doubt in the two sports she participated in that she helped put us on the map," Kimberlin said. "It wasn't too long ago with girls athletics that losing was OK. I think the pendulum has swung in the other direction now. They found out that losing stinks.
"A lot of kids brought us to that point -- Lauren, Kelly Spence in softball and all the kids that played basketball, volleyball and softball this year. The challenge now, from a coach's standpoint is to continue that and instill that in other kids coming through the program."
Kracl's impacts on and off the court inspired pride in her coach.
"I'm proud of her, not only because of her athletic accomplishments but the person that she is," Kimberlin said. "And the standard that she sets not only with sports but the way she represents herself, her family and her school.
"You'd be hard-pressed to find someone in school that didn't like her. If they didn't, they were just jealous of her talent."
That talent appears to be solely reserved for volleyball from this time on. However, many wonder if Kracl may reconsider her one-sport commitment following a career year and state-wide accolades on the hardwood.
"I don't think it affected her either way," Kimberlin said. "I just don't see it happening. It's not that she doesn't enjoy basketball, but she loves volleyball. I think this year she learned to love basketball. I think a lot of it had to do with her teammates, and the kind of year we had helped, too.
"But her true love is volleyball. I think the only hardwood she'll see is if I can talk her into coming back at Christmas and guard Erin (Kracl, her sister)."