Recreation bending over backward for gymnastics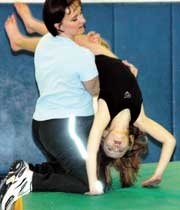 Eudora activities aren't just hardwood and diamonds anymore. In addition to traditional sports, the city's parks and recreation department is offering alternatives.
The department, which added dance classes to its lineup last fall, recently began offering youth gymnastics classes. Since classes began Dec. 1, instructor Carrie Blaisdell has had about 10 students but is hoping to add more as the word gets around.
"That's a pretty good start for just a month," Blaisdell said.
Bobby Arnold, who directs the parks and recreation department, said more activities were in the works but were dependent upon space currently being used by the boys basketball program.
The gymnastics classes, taught at West Elementary School, operate in four-week sessions that allow students to sign up throughout the year. Blaisdell currently offers classes for pre-schoolers through 7-year-olds and up, for both those with previous gymnastic experience and novices. The pre-school programs are "low-key" and concentrate on basic physical activity, like running, hopping, performing obstacle courses, and just staying active in class.
"No downtime is what we aim for," Blaisdell said.
Because of storage consideration and the program's newness, the classes don't yet include apparatuses like balance beam and uneven bars but rather concentrate on tumbling skills and other floor work.
"At first we just wanted to see how this would fly," Blaisdell said.
The instructor with 15-years experience said she tried to introduce a new skill each week.
"How I've always taught is we start at the basics and work up from there," she said. "Just like school, you go back and review."
That might include evolving a cartwheel into a one-handed cartwheel and eventually an aerial.
"You introduce one skill at a time," Blaisdell said. "With gymnastics it's good to be repetitive on everything and do things more than once."
Gymnastics also allowed Eudora children to develop a healthy lifestyle, too, she said.
"It gives them physical education other than their PE time in their school," she said.
At the youngest level, that involves parents and caregivers, too. Blaisdell's classes for 2-year-olds are parent-oriented.
"We want parents to participate with their child," she said. "Sometimes they don't like to get on the floor by themselves."
And parents can benefit from a gymnastics program offered in Eudora rather than somewhere requiring driving time, said Blaisdell, who moved to Eudora from Wichita, where she taught gymnastics classes and spent four years heading the city recreation gymnastics program in El Dorado.
"I was just realizing there was nothing going on here," she said. "I'd had a lot of parents ask me. They'd say, 'Oh, I wish we had a program (in Eudora).'"
"I thought, maybe this is a chance to do a program on my own."
Sign-up sheets for classes, which range from $25 to $40 per four-week session, are available at the city offices, 4 E. Seventh St., and at C&S Market.
More like this story