Rough Louisburg win drags down Cardinals girls' mid-season grade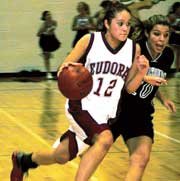 It's not quite mid-season, but the first semester has ended, and that means report cards are out. The Eudora High School girls basketball team (5-2) has drawn an A. Or is it a B? Or a C?
"I thought we finished before Christmas with a B+ or an A after the game with Prairie View," head coach Cara Kimberlin said. "But then we turned around and failed the test."
The Cardinals grabbed an unsatisfying 52-38 win Tuesday over Louisburg.
"We won, but at this point I'd have to give us a C+," Kimberlin said. "I hate to be negative all the time because we're getting wins, and that's the bottom line, but I'd just like to see us play well more consistently."
One thing that has been consistent, however, is the play of star senior Lauren Kracl. The 6-foot post power is averaging an impressive 24.2 points and 15 rebounds per game.
"I think she just decided to put the team on her shoulders this year," Kimberlin said.
And she seems more than capable of handling the load.
The question has always been who would step up to take some pressure off Kracl and prove a reliable complimentary scorer. The answer to that question is still a little fuzzy.
Junior Kayla Moyer is the team's second-leading scorer, averaging 7.6 points per contest. The hard-nosed veteran guard has been instrumental in forming the team's identity.
Sophomore Michelle Deluna (6.57 points and five rebounds per game) and freshman Erin Kracl (6.14 and 5.4), each flash moments of brilliance among multitudes of miscues. Their talent has often been overshadowed by youthfulness and inconsistency.
Sharp-shooting senior Jodi Wingebach has proven to be a valuable commodity off the bench, averaging 4.7 points a game. She holds the highest shooting percentage among the Cardinal guards.
Shooting percentages have not been friendly stats to Eudora thus far. The Cards entered Tuesday's match-up with Louisburg shooting just 37 percent from the field, including 6 percent from three-point range.
Eudora hasn't been much better from the free throw line. Although, a 17-for-19 performance against Louisburg helped raise the team's percentage from 55 to 60 percent.
Kracl though, doesn't believe the team's shooting numbers are representative of the squad's talent.
"The weird thing is we shoot it real good from outside in practice," she said. "We can't miss in practice, but when we get in the game I think we rush too many outside shots. We do have good outside shooters, though."
The other concern thus far has been the team's assist-to-turnover ratio. Through their first six games, the Cardinals amassed 88 assists to 122 turnovers. Eudora's three primary ball handlers had 35 assists to go with 61 turnovers.
In fact, only one Cardinal had a positive differential -- Wingebach's 12 assists to 11 turnovers.
"We're alright with our assists, I'd just like to see our turnovers go down," Kimberlin said. "But I do think we're sharing the ball better this year, we're driving and dishing better, and we're making that extra pass to get somebody open.
"We just have to take care of the things that we can control. And that's us -- how hard we're going to play and how smart we're going to play. If we can control things on the defensive end, we're going to get our points on the offensive end."