Meaningful journey
Soldier's parents keep family connected through trips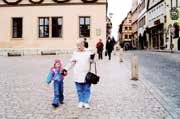 Throughout his 20 years in the Navy, Rick Hopson only spent one Christmas away from home. But now that he and his wife, Delores, have a son in the military, the couple are experiencing out-of-the-way holidays.
"The kids don't like it, and they're grown," Delores said.
When the couple traveled to visit their son Kurt, an army staff sergeant, and his family in Hawaii several years ago, Rick said they brought a bit of the holidays with them -- a small, portable Christmas tree that was an interestingly juxtaposed to the tropical setting.
"You could see the tree and the ocean," he said.
The unfamiliar holiday setting also provided an opportunity for an untraditional Christmas dinner of Korean food. This holiday, however, the Hopsons had the chance to feast on a different -- and more palatable, in their opinion -- cuisine in Germany, where Kurt and his family are stationed.
This holiday's trip to Germany, however, offered a certain poignancy: Kurt is set to serve a year in Iraq.
Rick said the prospect of his son going to war was a difficult one. After all, it was still hard to picture his youngest boy carrying a rifle and giving orders.
"He's a good soldier," Rick said. "He's very dedicated and very sincere in what he's doing."
The Hopsons said Kurt could have gone back to Italy, where he had been stationed before and where his parents had visited him twice, but that would have meant staying on base on not serving in Iraq.
A Vietnam veteran, Rick said he worried about the continued presence of American troops and hoped to see them able to leave Iraq soon. Having served in Vietnam five times, however, he said he could appreciate his son's sacrifice.
"I'm proud of him for what he's doing," Rick said.
Rick has several other relatives currently in the military and had a member of his family fight in every U.S. war, he said, including one that ties back to Germany. One of his grandfathers was a Hessian soldier, a German hired by the British to fight in the American colonies during the Revolution. He and Delores, who can also trace her ancestry to Germany, visited a small Bavarian town from Rick's ancestry.
As well as linking to the past, the couple also provides a link between Kurt and his family and the rest of the Hopson clan. Rick and Delores end up sharing photos and stories of the far-away family. Their son Bobby, who had been to Europe before, instructed his parents to take pictures of everything they saw.
Rick and Delores' visits have had to bridge the gap between Kurt and the rest of the family, who haven't been able to make the far-away journeys.
"If I ever win the lottery, they will," Rick said.
A few lucky grandchildren have gotten to make journeys with them, however. When the couple went to Hawaii, they took their grandson Bo Hopson. This year, their 4-year-old granddaughter, Jill Hopson, went along, fulfilling her wish to see her cousins.
"Every night in her prayers she asked to go to Germany," Delores said. "I think the trip was harder on (her) mom and dad than on Jill."