Scrappy new year
2004 so far unkind to boys basketball squad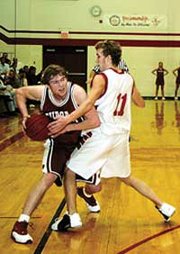 Traditionally the first few weeks of the new year are full of ambitious goals. Some people want to lose weight and workout more while others want to quit smoking or lose another bad habit. Uniformly people want the new year to be an improvement on the previous year.
Eudora's boys basketball team, on the other hand, would prefer to just go back to last year.
The Cardinals 2003 portion of the season ended with a 5-1 record, 2-0 in league play. The team was riding high following a great win over Piper and in the wake of head coach Scott Stein's milestone 400th career win.
But that was 2003.
The holiday break disrupted the momentum of the season and ushered in a thus-far dreadful 2004.
The Cards' first two games since the break have yielded a pair of poor performances.
Eudora began the second semester on the road Friday at Anderson County. The Bulldogs handed the Cards their first league loss of the season 57-38.
The Cardinals responded with an equally disappointing effort Tuesday at Louisburg, losing 52-38.
That makes twice in two games that Eudora was limited to just 38 points. The team averaged more than 50 points per game through its first six contests.
Eudora's benign attack has left Stein at a loss.
"I don't have any answers offensively right now," he said. "I really don't know what to think about that particular situation.
"I do know that we don't shoot the ball very well and then we get a little frustrated. In my opinion right now we're looking for ways to lose. We need to straighten that out in a hurry."Leading scorer Chris Gabriel thinks the time off is possibly at the heart of the problem.
"We're getting frustrated," he said. "The break might have hurt us. We were all excited and had some momentum going, and then during the break we weren't together, and it kind of broke us apart a little bit."
During the Louisburg letdown, the frustration began to finally show on the Cardinal faces. The offensive ineptitude was obviously taking its toll.
But, those frustrations better be short-lived in the eyes of the Eudora coach.
"They better end their frustrations, or they're going to run until I lose them all," Stein said. "It's a situation where they need to just play the game. They're on a little stretch where things haven't gone the way they wanted and they're acting like they do when they don't get their way, and I'm sorry, I will not tolerate that."
The Cards have been in a desperate search to find a player or two to really step up and to make a difference. Thus far the search has been unsuccessful.
Stein played 11 players significant minutes Tuesday in hopes of finding a spark. No fire was lit.
"We know we can play a whole lot better than we have been," Gabriel said. "We've just got to work harder and start getting after it in practice and regain working as hard as we did before the break."
Gabriel finished the Louisburg game with just six points on three-of-11 shooting. Tyler Cleveland was the only Cardinal in double-figures with 12 points on five-of-13 shooting.
The other three starters combined for seven points on three-of-15 shooting.
It wasn't much better at Anderson County Friday, although Eudora did lead 14-13 after the first quarter.
But a devastating 9-22 second quarter sent the Cardinals into an irreversible downward spiral.
"There were just too many turnovers," Stein said. "Offensively we didn't execute very well. We stood around and let them be the aggressor."
"We did a great job in the first quarter, I thought, and then I don't know where we went."
Cleveland was surprised by the way his team played.
"I thought we were going to come out better than we did," he said. "We practiced all week, and we were tired of practicing against each other. I don't know, we just didn't have it tonight."
Cleveland had eight points on the night. Gabriel had 10. Jesse Montgomery and Luke Abel were the only two other players managing more than one field goal.
The boys travel Friday to Spring Hill.
"(Spring Hill) rang up 92 points last Friday night, and they're going to press the devil out of us," Stein said. "We better get some things done on the offensive end, or they're going to run us out of the gym."