In Blooming Fashion
Rare blossom the life of the party
It could be said that Eudora resident Pat Black is serious about her night-blooming cereus. So serious, she had a party last Thursday to celebrate its blooming.
The buds on the unique plant -- a variety of the cactus family -- only bloom for one night, usually in June or July, so they can be pollinated by night-flying insects like moths. The blooms fold back up by morning, never to open again.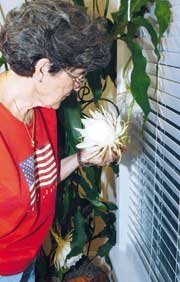 When the buds on Black's plant set a few weeks ago, she decided to have a "night-blooming cereus party" and promised to call some friends and neighbors to witness the event when it looked like the plant would bloom.
Black's plant was started from one her mother owned. When her mother died in 1961, she was given the unusual plant. She kept that plant for many years and started a cutting from her mother's plant more than 30 years ago.
"It's not very attractive," Black said. "I inherited it because no one else wanted it."
The cereus plant's "leaves" are large, flattened stems with fluted or rippled edges. New stems grow from the edges as the vine-like stems flatten. Some produce more stems and others produce buds.
Black's cereus plant had not produced any buds since she moved to Eudora from Tonganoxie almost four years ago. Black said she thought it might have been in shock from the move because it bloomed "just about every year" when she lived in Tonganoxie.
One of the four buds opened the night before, and Black thought at least one of the remaining three would open Thursday evening. So she made the promised phone calls earlier in the day, and later in the evening, guests began arriving at her door. Some traveled from Tonganoxie for the get-together.
By 9 p.m., the three remaining blooms were beginning to open. At around 10 p.m., a sweet fragrance similar to jasmine or gardenia permeated the room. By 10:45, most of the large, white buds were fully opened.
The plant is also known as the "Queen of the Night" and "Christ in the Cradle," because it is said to symbolize the Christmas story. The cluster of straw-colored stamens in the center of the bloom resembles the manger, the clumps of stamens on each side are Mary and Joseph, the two stamens at the top are the open arms of an angel, and the star-shaped pistil represents the star of Bethlehem.
When her plant finished blooming Thursday night, Black plucked the blossoms from the stems and handed them out to those who wanted them.
Black said she was happy to have company with whom to share the unusual event.
"It was a very enjoyable evening," Black said.
More like this story