Sole survivor
Miles Cleveland, Eudora's only returning senior, has found his role changed
A year ago, posters lined the commons area at Eudora High School brandishing a line from AC/DC's "Thunderstruck." Underneath the words was the photo of four wrestlers eager to begin their final campaign as Eudora Cardinals.
As the year went on Chris Durkin, Josh Barr, Andy Coffman and William Bock, with their vocal style of leadership befitting of such a poster, helped enforce the standard of winning that head coach Bill DeWitt has instilled during his four years at the helm.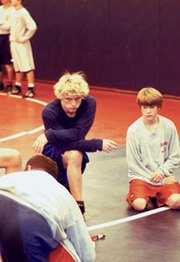 Those seniors, along with their combined five trips to state, are gone. And now the Cardinals go into the 2005-2006 season with just one senior wrestler who has been there for the duration of DeWitt's tenure as head coach.
Miles Cleveland may not enjoy the lightning and thunder of the poster which helped usher in last year's season, but that may be just as well.
"I don't think I'm as vocal as those guys were," Cleveland said. "I like to lead by example."
Vocal or not, the departure of those seniors has made Cleveland aware of his new role on a team filled with so many younger wrestlers and a roster that includes 30 participants.
"It's tough," Cleveland said. "They (Barr, Durkin, Coffman and Bock) were all such great wrestlers and great leaders out there for us. Now you kind of have to take up being a coach on the mats."
Cleveland, along with some of the veteran juniors like Tim Durkin, knows what to expect from a group of newcomers in a very demanding sport.
"They look up to us," Cleveland said. "They expect us to show them how to do things, like moves and holds."
With so many new faces and inexperienced wrestlers, Cleveland's head coach knows how difficult a leadership role of that magnitude can be.
"It's tough and I can't expect him to do it by himself, especially with the numbers that we have," DeWitt said. "And he's not vocal, but his work ethic, his leadership and tenacity on the mats are something that I really respect."
Those qualities have been brewing for Cleveland since the very beginning of his wrestling career.
As a freshman in the 112-pound weight class, he held his own throughout the season, and gained recognition for his efforts as the Cardinals' "Freshman Wrestler of the Year."
He continued the momentum his sophomore season in the 125-pound group with a Frontier League runner-up effort, while falling one round short of a state qualification.
Cleveland's third year, as a 135-pounder, found him getting over the hump with a regional championship and his first visit to state.
Along the way Cleveland showed another quality -- toughness.
During last year's Frontier League tournament, Cleveland collided with Gardner's Luke Schlagel in the first 12 seconds of the match, resulting in a one-inch gash to his forehead.
Cleveland returned to the match just as quickly as his injury had occurred and went on to a 12-4 win.
Such lopsided victories are usually not Cleveland's style and pins are not a frequency next to his name on the result sheet.
His style mirrors the tenacity and work ethic described by his head coach.
"I try to score early and work my way through it," Cleveland said. "A lot of my matches are close."
He put that code to the test a year ago at the Fort Scott regionals with three straight overtime matches and a one-point win in the finals.
Perhaps the road to another state appearance will not be so harrowing, but that's Cleveland's goal and the goal of any wrestler who dons the Cardinal colors.
The dedication to such goals has landed the senior something else to go with his past and future trophies, the far-reaching admiration of his head coach.
"He's a great senior," DeWitt said. "I wouldn't trade him for any senior in the state of Kansas. He's been with me four years and we've been through a lot together."
As those four years have nearly evaporated and Cleveland prepares for his final season as a Cardinal wrestler, he does take time to notice the progress of those who will be taking his place in just a few short years, as a veteran leader would.
A strong junior core may rekindle the memories of last year's senior group, while a few of the sophomores have demonstrated some potential in the seniors' mind.
"I think that we've got some good wrestlers coming up," Cleveland said. "Guys like Evan Meyers and Travis Clarke are coming along pretty well."
These new and upcoming wrestlers will share the same long hours in the weight room, the sauna-like conditions in the wrestling room and the struggle to keep weight that Cleveland has endured.
But no matter what Cleveland's final season brings home, there is one thing he now expects and his fellow wrestlers are learning as they progress through the ranks. Something fostered by four years of hard work and leaving everything out on the mat.
"It doesn't matter who it is," Cleveland said. "If it's a new wrestler or a state champ out there, it doesn't matter. You go out there to win."