Pyle announces bid for mayor
Longtime Eudora city councilman, businessman wants a turn as leader
After serving 22 years on the Eudora City Council, Tom Pyle would like to try his hand at being mayor.
Eudora Mayor Ron Conner announced earlier this month that he would not seek a new term because of job responsibilities that often kept him out of town.
Pyle was the only individual as of Tuesday to have filed to run for any of the open offices in the upcoming city election. Potential candidates have until noon Tuesday to file.
Pyle's experience in city government began when he was elected to the Eudora City Council in 1968, which was the first year Eudora implemented a mayor-council form of government.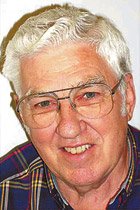 He has now served 22 collective years on the City Council, and because he is in the middle of a four-year term he will serve at least two more if he is not elected to the office of mayor.
He said his experiences as a member of the Council and as a Eudora businessman were his strengths going into the election.
"I've been with the city here for so long," he said. "I think I can do a lot of good here for the city of Eudora."
Pyle said a main priority of the City Council was to manage funds and resources and not to spend money frivolously.
"We're growing and there's no two ways about it," he said. "We have to weigh our options because there are just so many things that need to be done."
Of the things that need to be done, Pyle counted the extensions and improvements to roads and utilities to serve Eudora's growing population.
Pyle said he would also like to see more annexations that would allow for light industrial and commercial growth. He said he was not in favor of any heavy industry, but would like to make enough room for more businesses in Eudora because they pay higher taxes to the city and they create good jobs for Eudora residents.
"Businesses pay far more in taxes than residences, and they also provide good jobs for people," he said.
Pyle said Eudora was a prime spot for people to live in northeastern Kansas, and he would like to keep the city appealing by spending wisely and keeping taxes low.
"No taxes are cheap, but at least they're somewhat reasonable here," he said. "We do have to try to watch how much we spend and keep our mill levy down to what's affordable."
Besides the mayoral position, the terms of the two City Council seats presently occupied by Rex Burkhardt and Don Durkin will expire
Durkin does not plan to run for re-election.
"I am not interested in it anymore," he said.
Rex Burkhardt did not immediately return phone calls to comment on whether or not he planned to run for re-election.
The filing deadline for the April 5 election is noon Tuesday. If necessary, a primary election is scheduled for March 1. Potential candidates can file at Eudora City Hall, 4 E. Seventh St., or at the Douglas County Courthouse, 1100 Massachusetts St., Lawrence.