Fireworks celebrate Fourth of July
There were stars above Greg LeRow, and stars keeping him warm as he sat in his pickup truck looking toward the sky. On his lap rested a quilted version of the American flag. He brought it along to stay comfortable and to celebrate the holiday during Eudora's annual fireworks celebration.
He had seen the show every year, and the setting sun and cooling temperatures signaled the start of this year's ride.
"I think it's a pretty good show," LeRow said. "I'm glad we can have a common thing to go along with."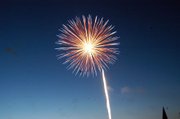 The community spirit showed itself Monday night in a blaze of sparklers, thunderous explosions and a shared sense of wonder as the first fireworks bloomed across the horizon.
People gathered in both the Eudora High School parking lot and the Eudora Middle School parking lot. Shades and sounds of Americana filtered through loudspeakers as Rex Burkhardt played music in a trailer framed in red, white and blue lights.
All-around amateur pyrotechnics blazed and groups of children laughed.
Then all became calm when people stood for the national anthem. Its familiar strains brought focus to the American flags planted around the parking lot.
When the anthem faded away, it seemed the crowd knew the sky had just the right shade of nighttime and the fireworks would soon be on their way.
The sporadic booms of personal fireworks still echoed in the distance, but when Eudora's show started there were no questions as to where the big guns were or where to look.
The music played as the blasting shells colored the night sky.
"I thought the timing with the music was spectacular," Burkhardt said.
The explosions and fireworks seemed to go through palettes of color, various rhythms and reverberated so loud that car alarms played unplanned accompaniments to John Philip Sousa.
"I think it gets better every year," Lisa Wiederholt said.
The entire show lasted more than 30 minutes, and after the last flashes of the grand finale faded, the crowd responded with booming applause.
Eudora Parks and Recreation Director Bobby Arnold planned the show along with the help of Jim Hoover, who designed the explosions.
Eudora USD No. 491 offered the venue and Burkhardt brought the tunes.
The Eudora Police Department helped keep the traffic safe, and throughout the evening the bells of an ice cream truck filtered through the night air to keep people cool and their collective sweet tooth satisfied.
It's an experience that keeps LeRow and Wiederholt coming back and one that keeps Arnold planning it.
"This is the way it should be celebrated," Wiederholt said.