Pedestrian struck in parking lot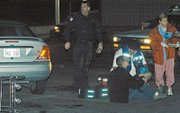 A Kansas City, Kan., man apparently suffering from a medical condition struck a pedestrian Nov. 9 in the C&S Market parking lot in the 1400 block of Church Street.
Eudora Patrolman Chris Casagrande said the accident occurred when Gary Taylor, 56, Kansas City, Kan., lost control of his late model Dodge Neon shortly after 6 p.m. while apparently suffering a medical condition. Taylor apparently struck Roman Manaenkov, 24, while the Eudora man was placing his groceries in the back seat of his 2000 Ford Focus.
Manaenkov said Taylor pinned him against his car while pushing the car about half a parking stall to the west. Manaenkov refused ambulance transport at the scene.
After striking Manaenkov, Taylor drove his car to the Church Street exit and then stopped in the frontage street in front of Sonic Drive-In. Taylor was "extremely confused" from the medical condition when the first officer arrived at the scene. He was transported to an area hospital.