Hesper preacher follows own beat to Christ
Editor's note: Three new pastors joined Eudora churches recently. This week's article completes the "Faces of Faith" series as The Eudora News introduces the third pastor to its readers.
Quiet fields surround the 144-year-old Hesper Friends Church. In the near future, the bucolic silence could be broken with the sounds of joyful worship.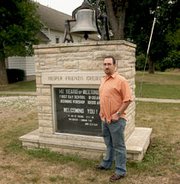 The congregation's newest pastor, Darin Kearns, demonstrated his musical talent during his interview and looks one day to expand the church's musical climate.
But before he leads church members in new choruses and hymns, Kearns has spent the past month getting to know his new congregation.
"I feel like I have a lot to live up to just knowing of the former pastors," Kearns said.
Kearns' wife, Shelda Cay, had grandparents who served as pastors at Hesper Friends decades ago. The memories of Leroy and Marie Thornburg still live strong among the congregation, Kearns said.
The Kearns' have three children; David, 10; Bethany, 8; and Noah, 3.
While his wife serves as a link to Hesper's recent past, Kearns has been building the church's future by serving people in need.
"Right now I'm spending time with people," Kearns said. "I'm seeing them in their homes or visiting in the hospital."
He's also making his mark through his Sunday service. On average ,35 to 40 people attend to hear him preach, he said.
"My preaching style is very practical," Kearns, said. "I'm always looking at the scripture and how it is supposed to factor into our everyday lives."
Kearns developed his ability to preach at Barclay College ---- a Bible school in Haviland.
At Barclay, Kearns received a bachelor of arts degree in Christian ministry leadership.
"In some sense, it's a real world degree," Kearns said.
Before attending Barclay, Kearns was positive he wanted to live his life as a musician.
He played drums and some guitar. It was his love of the beat that brought him to Berklee College of Music in Boston, Mass.
About two years into his degree, Kearns took time off. While working a job at a county courthouse, he found his calling while cleaning restrooms.
"I was cleaning toilets and the Lord spoke to me one evening," Kearns said. "I felt I had an absolute, definite call to the ministry."
After hearing the call, Kearns left Berklee and began studying the Bible when he returned to Kansas. His early career brought him to other Evangelical Friends churches in Kansas and Colorado.
The love of music also carried into his early religious career.
"I was, at one point in time, a worship pastor," Kearns said. "Music is very, very important. It's one of those things that helps us to be ready to worship the Lord."
Although music plays a strong part in worship, it's not the only part, Kearns said.
"Worship is a lifestyle. It's really everything we do," Kearns said.
Once he gets settled, Kearns said he's prepared to lead the congregation into the future.
"This church is getting ready to grow," he said.
It's his faith's duty to reach out to the surrounding community, Kearns said.
"It's one of those things where there are enough people in Eudora, period, to fill up more than just the churches that are here," Kearns said. "It's not one of those things where I feel I'm competitive with the other churches.