Cardinals fly in Wellsville meet
The annual Redbud Classic marked the Eudora track team's third trip to Wellsville this season. And although each meet has had different teams participating, affecting the size and length of each event, there has been one constant when the athletes walked off the track.
The Eudora Cardinal girls were in first place.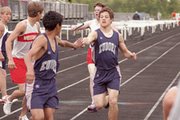 The result of Friday's Redbud Classic capped off a perfect regular season run for the girls track team as it took its sixth consecutive meet by 34 points over second-place Baldwin.
"There was very little disappointment out there," Eudora head coach Phil Katzenmeier said. "They continue to impress every time out. They've managed to set 10 records this year and they all keep getting better."
The team set seven new school records in its final meet of the regular season, including two by senior Carrie Lister in the discus and shot put.
The Cardinal relay teams swept all three events, including a school record by the freshman squad of Rachel Pyle, Alisha Wingebach, Tianna Dunnaway and Kendal Abel in the 400-meter relay.
Freshman Allison Hoover took her second consecutive first-place finish in the pole vault with a winning attempt of nine feet.
The Cardinal boys finished the regular season schedule with a ninth-place finish out of the 18 teams in attendance.
Senior Nolan Smith continued to score points on the boys side, notching a first-place finish in the pole vault. His final attempt of 12-6 was one the head coach was pleased to see.
"He really needed that," Katzenmeier said. "He's been trying to get there all year and it gives him a real boost of confidence. He's a huge point contributor for us."
During the pole vault, the Cardinals and the crowd watching had a brief scare when junior Austin Hoover's pole snapped in half during his ascent. Fortunately Hoover landed on the mat, suffering only a bruise on his right side.
"It's all right," Hoover said. "I get hit harder during football season, but for a second, it was a little scary."
Junior Cody Burns placed in the 3,200 for the third consecutive meet with a final time of 10 minutes, 21.7 seconds, which was good for fourth.
The results from Friday's meet set the team up for what the coach believes will be a strong showing at Thursday's Frontier League meet at Paola.
"That's what I gear the workouts for," Katzenmeier said. "We've come a long way, but we still have some things to work on. There's a lot of confidence and hopefully we can go in and compete well."

Girls team standings:
1. Eudora 127; 2. Baldwin 93; 3. Wellsville 76

Eudora placers:
Shot put: 2. Carrie Lister, 38-2.5 (school record)
Discus: 2. Carrie Lister, 119-6
Javelin: 3. Carrie Lister, 109-8
Long jump: 6. Kendal Abel, 15-5.5
Pole vault: 1. Allison Hoover, 9-0
300 hurdles: 1. Emily Ballock, 44.5 (school and meet record)
100: 4. Rachel Pyle, 13.2
200: 1. Emily Ballock, 26.4; Rachel Pyle, 27.7
400: 1. Megan Ballock, 59.2 (school record)
800: 1. Megan Ballock, 2:25.4; 4. Bre Miller, 2:42.3
1,600: 2. Brittney Graff, 5:20.6 (school record)
400 relay: 1. Alisha Wingebach, Kendal Abel, Tianna Dunnaway, Rachel Pyle--51.2
1,600 relay: 1. Emily Ballock 59.3, Rachel Pyle 65.2, Brittney Graff 63.5, Megan Ballock 60.5--4:08.6
3,200 relay: 1. Brittney Graff 2:23.6, Lauren Colman 2:40.6, Emily Ballock 2:23.4, Megan Ballock 2:23.0--9:50.6
Boys team standings:
1. Baldwin 132; 2. Spring Hill 73; 3. Paola 49; 4. Louisburg 49; 9. Eudora 22
Eudora placers:
Pole vault: 1. Nolan Smith, 12-6
200: 2. Nolan Smith , 22.3
3,200: 4. Cody Burns, 10:21.7