Sub-statement
Eudora delivers a powerful message with final sub-state tune-up
Eudora volleyball coach Jill Stutler said her team had quietly been anticipating its last match of the regional season -- a showdown against defending state champion Santa Fe Trail.
There was nothing quiet about what the Cardinals did when the match finally came, however.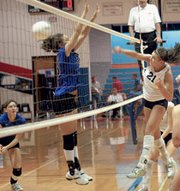 Eudora announced not that it had arrived, but that it was still here Tuesday with a dominating two-game victory of the Kansas Volleyball Association's No. 2 ranked Class 4A team, pounding the Chargers in their home court quadrangular, 25-21, 25-21.
"As a whole match, that's the best (of the season)," senior Erin Kracl said. "I'm very comfortable. Tonight we played great. Our first two matches weren't great, but we stepped it up when we had to."
It's hard to imagine a better time for the team to hit its stride. Eudora will travel Saturday to Spring Hill with hopes of defending its sub-state crown and earning a third-consecutive trip to the state tournament.
And wow, did the team ever hit its stride.
Kracl said the team wasn't quite right in its first two matches, but those shortcomings never amounted to a three-game match.
Eudora beat Gardner Edgerton in a relatively close match, but one still decided in two games. The Cardinals pulled out a 25-22 win in the first game, then survived two game-point serves from the Trailblazers in the second game.
Kracl gave Eudora the lead for good, 26-25, with a giant swing, and a Gardner ball landed out-of-bounds on the next point, giving the Cards a 27-25 win.
Things seemed to be clicking even better against De Soto. The Wildcats pushed the last match the two played against each other to three games, but the Cats couldn't mount any such surge this time.
Eudora won the first game 25-15 and took the second 25-8.
"We like doing things in two," Stutler said. "It's a lot easier on all of us, but we have things to work on. We have to do a better job making the other team work for points."
It all came together against Santa Fe Trail. The Cardinals didn't face the Chargers in last year's state tournament, so there was no revenge factor, but Eudora didn't appear to need any extra motivation.
A Kracl block broke a 5-5 tie and Nikki Snider hammered a kill to give the Cardinals an 11-9 lead and snuff what had been a swing in momentum toward Santa Fe Trail. Another Snider kill gave the Cards a 14-9 lead as they went on to lead by as many as eight, 20-12.
It should come as little surprise that Kracl and Snider powered the team through the night with kills, and the duo's powerful arms helped grab the first game.
Santa Fe Trail rallied and closed the game to 23-21 when a Snider tap couldn't quite climb over the net, but Kracl swung hard to make it 24-21 and Mariah Webb tapped the final point home for the 25-21 win.
Eudora again broke open a close contest with a flurry of kills in the second game. Elaina Kouri made it 11-7.
And again, the Chargers rallied, cutting a 19-12 Eudora lead down to 19-17 before the Cardinals finally put the game away by the same score as the first.
"Midseason (Haley Epperson) went down and we've been struggling to find a rhythm since," Kracl said. "But I think we're there now. We played well. We stepped up. We blocked. We passed and we did what we were supposed to do."
Now the question is whether the team can maintain that momentum into the all-important sub-state tournament.
Eudora, 34-5, could net the top seed in the tournament and the Cardinals have already beaten all but two of the teams in the field at least once this season.
They lost twice to St. James Academy, however, and Stutler said despite Tuesday's emotional win, the team has a few areas that need work.
"Am I ever comfortable?" she said. "We have to fine tune some things. We blocked better today, especially against Santa Fe Trail, so that's a plus. We still need to be better on defense.
"But if we can play like that through the next three matches, I'll be pretty happy."