Variety show coming together
Show starts at 7 p.m. Saturday
While members of the Eudora Quilt Guild had their monthly meeting Tuesday in the basement of St. Paul United Church of Christ's building, musical strains by The Four Tops, Blondie and the score of "Grease" filtered down from above.
With the music, came the periodic thumps of people dancing.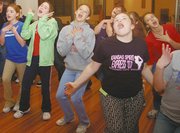 The sounds stopped for minutes at a time before starting up again.
The performers had a schedule to keep ---- show time is less than a week away.
"It's crunch time," Katie Beery said.
Beery is part of the largest cast ever taking part in the congregation's annual variety show. This year the church will present "Showtime," 7 p.m. Saturday in the auditorium at the Eudora Middle School, 2635 Church St. Tickets are $5.
Eudora High School Senior Whitney Box came up with the name.
"They always say that to us before we go on," Box said.
Box has spent the last eight years performing in the church's shows.
This year, the large cast has had a definite impact, she said.
"The energy level is always stronger at practice," she said.
But the added manpower has created scheduling problems, Box said.
Participants have sacrificed hours at work, time with their families and school schedules to make the show a success, she said.
Proceeds from the event will go to the Eudora Ministerial Alliance's food pantry.
Last year's performance raised more than $1,500 for the pantry and provided vouchers for 60 families. The show funded almost half of all the vouchers given last year.
The money adds a different dimension to the pantry than canned goods and dried foods, Box said.
"This brings it to another level," Box said.
The group hopes to raise even more money this year, Box said. The group expanded the variety in the variety show.
Through the course of the evening, people will hear classic rock music, see multiple types of choreographed skits and be regaled by skits.
"This year we're try to appeal to both older people and younger people," Bria Carder said.
In addition to expanding the show's range, each piece in "Showtime" will feature multiple people, Box said.
Box said her favorite act this year is an ensemble dance choreographed to the disco song "Car Wash." Though the song is older, it will have a modern feel, she said.
The performance helps the food pantry, but also the participants, congregation member Darin Howell said.
"It's a great cause for the community," he said.
It gives the youth a little of stardom for the night, he said.
Audience members will have the opportunity to purchase chances to win a quilt and other items at the performance.
"We need a lot of people to come," Howell said.
For more information on the show or to purchase tickets call the church at 542-2785.