Pitching continues to lead way for Cards
The Eudora softball team is lucky. Most of the time, high school softball teams have one solid pitcher that has to carry the brunt of the defensive responsibilities. Eudora has two: Caitlyn Riser and Brynn Hamilton.
Despite whether the Eudora softball team wins or loses, one thing that stays consistent -- consistently good, that is -- is the pitching, coach Cara Kimberlin said.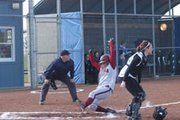 The Cardinals won the first game of a doubleheader 6-0 to Gardner Edgerton, but lost the second game 3-2 Thursday in Gardner.
As disappointing as it was to lose the second game, a strong pitching performance gave Eudora a chance.
"Our pitching in the last three games has put us in a position where we haven't had a lot of problems," Kimberlin said.
Kimberlin said Riser's pitching just cannot be beaten the way she's throwing. She said Riser throws a relatively fast ball with a lot of curve and spin, which makes it difficult for batters to hit off of her. In the 23 innings Riser has pitched, she has had 30 strikeouts and only three walks. Riser pitched the first game of the doubleheader last week.
Although the first game started off slow -- Eudora did not score any runs until the fourth inning -- Kimberlin said the team operated as a well-prepared unit.
The bases were loaded in the fourth inning when Riser smacked a two-run double.
Hamilton, who pitched the second game, gave zero walks and amassed an impressive nine strikeouts. Overall, Kimberlin said Hamilton's strong pitching was not followed up on by the rest of the team.
"It was another good pitching performance by Brynn," Kimberlin said. "The three runs we gave up were earned runs. We had as many hits as in the first game, but we just didn't have any key hits. We also had some poor base running decisions. They were mental lapses."
In addition to the mental lapses last Thursday, Kimberlin said the Cardinals had a difficult time maintaining focus during the duration of both games.
"This group seems to have a hard time with focus at practice, which sometimes carries over to games," Kimberlin said. "But even though we lost to Gardner Edgerton in the second game, we still played well. It is obvious things are coming together. It's just little things we need to work on now."
Bailey Scott also played with an unmatchable energy. In both games, Scott went three-for-four, improving her overall batting average to .407. Scott contributed two of the team's six runs in the first game.
On the field, Kimberlin said the team was progressing nicely after the initial position shakeup from last season. She said the team was coming into its own.
"I knew coming into the season there was going to be some growing pains," Kimberlin said. "But people are becoming more relaxed with their new positions. With repetition and time, they are getting much better."
The Cardinals are scheduled to play Wellsville at 4:30 p.m. Thursday at home. The game will be aired in its entirety at 10:30 p.m. that day on Sunflower Channel 6 as the Game of the Week.
Kimberlin said although she was unsure what type of competition to expect from Wellsville, Eudora had to play its hardest if it hopes to improve its record to 6-3.
"What I've told people is it doesn't matter what other teams do," Kimberlin said. "We win or lose based off of how we do. We had some consistency problems early in the season, but we've gotten better in the last three games. We should do well."