Eudora hits it big with wins
Call it a mercy run.
After shutting out Wellsville 15-0 and 18-0 in a doubleheader Thursday night and Anderson County 15-0 in the first game of a doubleheader Friday night, the Cardinals broke their almost-perfect streak by giving up one run to Anderson County in the second game, winning 8-1.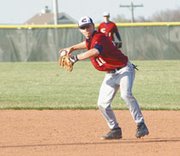 Repeating his motto, coach Dirk Kinney said the huge wins -- Eudora amassed a total of 56 runs over four games -- were attributable to two very simple and basic aspects needed to succeed in baseball.
"If you throw strikes in baseball and field the baseball, then you're in good shape," Kinney said. "I'm as confident as ever that we can field the baseball, and I'm delighted when we do."
If the players don't believe that, Kinney said they could just go back in their memories to the games against Gardner, where the Cardinals lost 8-5 and 7-2, and Louisburg, where they lost 4-1.
In the second game against Anderson County, Morgan Abel hit a double, bringing in two runners. Kinney said Abel's hit was important and a great example of powerful swinging.
"Morgan Abel had a huge base hit for us that opened up the game for us," Kinney said. "He then hit a double and ran in two guys. He did a nice job on a pinch-hit roll. Overall, in the second game, clutch hitting improved."
One aspect of the Anderson County games Kinney said he was disappointed with was the players' attitudes on the field.
"Our character on the field was not what I was expecting," Kinney said. "You play a good game regardless of the score or the opponent, and we didn't do that. Certain things needed to improve amongst a lot of guys. They just didn't play the game the way it was taught to them, and that's frustrating for me to see."
The Anderson County and Wellsville games also saw the emergence of a strong, new pitcher: Chad Krutz. Krutz pitched a total of eight innings throughout the weekend.
Kinney said Krutz proved himself to be an invaluable member of the team and a strong pitcher last weekend.
"Chad did a great job this past week," Kinney said. "He did exactly what we needed him to do for us to be successful. Aaron Shockley also pitched for three innings. Both stepped up and did well for us."
Although the wins against Wellsville and Anderson County were monstrous, Kinney said it was important the team did not become complacent. He said the Cardinals still had a considerable amount of work to do before the season concluded and to never be happy with how they played.
The Cardinals were scheduled to play a doubleheader against Ottawa Tuesday, but the game was rescheduled because of poor weather. The games will be made-up May 4.
Now, the Cardinals are going to need every ounce of momentum they generated last week in order to win their next games against Frontier League giants, Central Heights.
"They are one of the best teams in the league right now," Kinney said. "I've said it once and I'll say it again: If we throw strikes and field the baseball we'll be OK. We're as excited as we have been all year for this tough game."