Lunch ladies stay productive during summer
When they aren't behind a counter looking at hungry students, Eudora High School cafeteria workers Kim Steyer and Marla Foulk still find time to feed people.
For the last few weeks, the duo has sat behind a card table and under a tent surrounded by lush fruits and vegetables.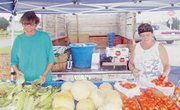 They both work for Captain Creek Produce owned by local farmer Jim O'Berg. They signed up for the job at the end of the school year as a way to earn money during the summer months.
The two came to a decision to try their hands at farming at the same time.
"I was trying to find something to do outside," Steyer said. "That's why I worked for him originally, so I could go out and learn something."
Foulk and Steyer set up their stall across from Laws Field on Church Street and offer corn, tomatoes and melons in addition to other produce.
"He plants a lot," Steyer said.
Steyer and Foulk witnessed the growth of their stock from beginning to end.
They started out planting the food in March.
"It wasn't so bad," Steyer said.
A few months later when it came time to pick and harvest the fruit, Steyer said she realized what she had gotten into.
"It's hard work," she said.
The heat was particularly hard, she said.
After spending June harvesting, things became better.Steyer found the easy job sitting under the tent, she said.
"I like to sell," she said.
She didn't hesitate to explain anything about her stock as people drifted in and out of the stall area Monday afternoon.
She made sure customers had enough corn or knew that a box of onions was perfect for grilling.
Steyer has seen a lot of repeat customers, she said.
Corn and fresh melons have been big sellers.
The fact everything is grown locally makes a difference, Steyer said. O'Berg's farm is located near the Johnson County line southeast of Eudora on North 900 Road.
The opportunity has done more than acquaint Steyer and Foulk with the agricultural process ---- it also gives the two friends time to interact with each other.
"We're joined at the hip," Foulk said.
Each arrived to Eudora about a year ago.
The two have fun while working, but also meet new people.
"We just have a blast with these people," Foulk said.
The duo have also encountered a recurring theme brought on by their location. They often see cars drive by and hear students yelling, "Hey! Lunch Ladies," Steyer said.
"It's hard to get bored here," Foulk said.